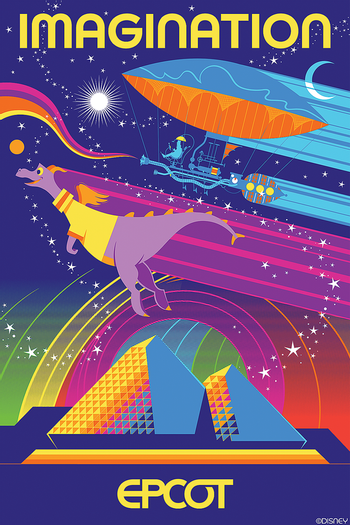 One little spark / of inspiration
Is at the heart / of all creation
Right at the start / of everything that's new
One little spark / lights up for you
— Lyrics from "One Little Spark", the ride's theme
Journey into Imagination is a series of dark rides at Epcot in Walt Disney World that focus on the importance of creativity in life, contained in a pavilion that originally shared the name. There have been three incarnations of the attraction over the years.
Journey into Imagination: The first iteration of the ride. It featured two characters, Dreamfinder, a collector and user of dreams, and Figment, a small purple dragon that's friends and partners with Dreamfinder. The guests would first come across Dreamfinder flying in the clouds on his own zeppelin, which he reveals also functions as a machine that he uses to collect dreams and ideas from people in order to create grand new things. He then summons in Figment, the latter of whom quickly comes up with so many ideas that Dreamfinder's "idea bag" becomes full, forcing them to unload it at the "Dreamport". Afterwards, Dreamfinder demonstrates the power of imagination by using the collected ideas to create the "Realms of Imagination", five worlds that each represent a different form of creation: Art, Literature, Theater, Science, and Film. Dreamfinder and Figment would then take the guests through each of these realms, as a way of showing first hand how pivotal creativity is to everything.

This version operated from 1983 until 1998, during which time one of the pavilion's original sister attractions, the 3-D short film Magic Journeys (which did not feature the characters but had a similar "wonders of imagination" theme, and which riders disembarking were directed by a sign to "Follow Figment to...") was swapped out twice. First came Captain EO and later Honey, I Shrunk the Audience, neither of which had a clear thematic connection with the ride or the Image Works second-floor playground. Eventually, it was decided to revamp the two attractions and pavilion in hopes of tying everything together again.
Journey into YOUR Imagination: Opening in 1999, the second version completely did away with Dreamfinder and reduced Figment to a couple of cameos, along with changing the setting to being inside the "Imagination Institute" (which also became the new name of the pavilion) and putting the spotlight on Dr. Nigel Channing (Eric Idle), both of which came from Honey, I Shrunk The Audience. (The original Image Works was also shuttered and replaced with a far smaller play area of the same name.) The plot of this version was fairly straightforward, with guests being taken on a tour of the Institute's facilities, in hopes that it can boost the creativity in their minds, as the "Imagination Scanner" at first would show that they have no imagination. Due to negative guest response (Disney's theme park division was not investing heavily in new or revamped attractions at the time, and it really showed here), this iteration was shuttered in 2001 and re-tooled.
Journey into Imagination with Figment: The current version of the ride opened in 2002 (the pavilion's name being changed to "Imagination!" in the process). In response to guest demand, Figment was brought back as the main character alongside Dr. Nigel Channing. The plot of the ride still involves Nigel giving guests a tour of the Imagination Institute — but this time Figment hijacks the tour to show the guests what imagination should really be like and how the Institute's way of seeing it as something that needs to be controlled is wrong.
Dreamfinder would also be the main star of the short lived Epcot show Skyleidoscope from 1985-1987; in it, he decides to create rainbows in the sky to brighten everyone's day, but two dragons (who, unlike Figment, are evil) decide to ruin it. This results in a battle of good versus evil, depicted by stunts using watercraft and aircraft as well as special effects. An accident during a rehearsal in which a pilot suffered fatal injuries in a crash of the ultralight plane he was flying resulted in the show being discontinued.
From 1988-1989, Figment starred in the educational film series Language Arts Through Imagination, consisting of eleven short films meant to teach elementary school students basic language arts concepts and the role imagination plays in putting said concepts into practice. Dreamfinder was Adapted Out, making this series an alternate continuity to the original ride.
Dreamfinder and Figment received an origin story in the appropriately titled Disney Kingdoms series, Figment in 2014. A sequel series, Figment 2, was published from 2015-2016. Both series lasted 5 issues each.
Figment eventually made his video game debut in 2023, appearing as a racer in Disney Speedstorm. Fittingly, Dreamfinder appears as an exclusive crew member for him.
A feature film
based on the character of Figment is in development from Seth Rogen and writers Dan Hernandez and Benji Samit (Pokémon Detective Pikachu, Central Park).
A Little Golden Book titled "Figment" and based on the first version of the ride is set to be released in January 2024.
---
One little trope, lights up for you.:
open/close all folders
Journey into Imagination
Journey into YOUR Imagination
Journey into Imagination with Figment
---
Imaaagination! / Imaaagination!
A dream can be / a dream come true
With just one spark / in me and you.
---