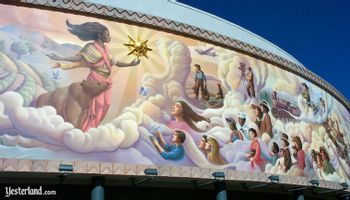 "Anything can be done with just one dream. "
—"Just One Dream"
Golden Dreams was a Short Film about the history of California created for Disney's California Adventure Park at the Disneyland Resort in Anaheim, opening with the park on February 8, 2001. It starred Whoopi Goldberg as Califia, the Queen of California.
Califia explains that she is the spirit within California, and an inspiration to many famous residents. Goldberg appears in some of the filmed sequences that follow as Califia—in disguise—to comment or offer encouraging words to various characters who find themselves in challenging situations.
The 70-mm film was among the most sophisticated Disney theatre attractions — highlighting admirable and regrettable eras and incidents in the history of California, including vivid illustrations of injustice, before ending with a montage of notable events and Californians.
Golden Dreams gave its last public showing on September 7, 2008. Disney tore down most of the theater afterwards, to make room for the dark ride The Little Mermaid: Ariel's Undersea Adventure. Today, all that remains of the Golden Dreams building is the replica of the Palace of Fine Arts rotunda, which Disney repainted and now uses as the entrance of Ariel's Undersea Adventure.
---
Golden Dreams provides examples of the following tropes: