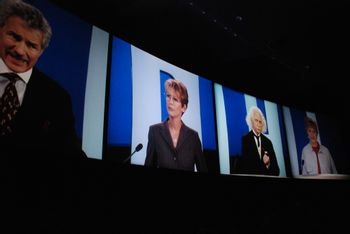 "This...is...
Jeopardy!
Now, here are today's contestants: Dr. Judy Peterson, Dr. Albert Einstein, and finally... just Ellen."
—Jeopardy! announcer Johnny Gilbert
Ellen's Energy Adventure (initially titled Ellen's Energy Crisis, but it was quickly changed after its debut) was a humorous look at the past, present and future of energy, featuring Ellen DeGeneres, Bill Nye the Science Guy, Jamie Lee Curtis, Alex Trebek and Michael Richards. Located at Walt Disney World's Epcot, it replaced the original Universe of Energy attraction back in September 1996.
In the pre-show, guests saw Ellen dreaming that she's on Jeopardy!, competing against her snooty college rival Dr. Judy Peterson (Jamie Lee Curtis) and Albert Einstein. All the categories are about energy, which Ellen is clueless about, so her neighbor, Bill Nye The Science Guy shows up to help.
After boarding a novel "moving-theater car" guests would travel back to the origin of fossil fuels, through a dinosaur-filled primeval diorama. Leaving the diorama, the vehicles entered a second theatre where they reassembled back into their original theatre seating formation. After listening to a brief prehistoric broadcast from KNRG News Radio, guests viewed a twelve minute live-action film in which Ellen and Bill Nye took an in-depth look at various current and future energy resources. Actor Michael Richards also made a brief cameo as a caveman.
Finally, Ellen returned to Jeopardy! as an energy expert (or at least expert-ish) to take on "Stupid Judy".
The attraction operated for almost 21 years (longer than the original Universe of Energy attraction) before closing on August 13, 2017, to make way for Guardians of the Galaxy: Cosmic Rewind, a new E-ticket attraction based on the Marvel Comics characters (and film) of the same name. Cosmic Rewind will be the first attraction based on a Marvel property in Walt Disney World note per Marvel's original licensing deal with Universal Studios Orlando that predates Disney's acquisition of the company in 2009, limiting what Disney can do with Marvel in Florida and is scheduled to debut on May 27, 2022.
Meanwhile, Ellen wants her robot back.
Be careful what you wish for...
note It's not the real animatronic however.
---
Ellen's Energy Adventure provides examples of the following tropes:
---