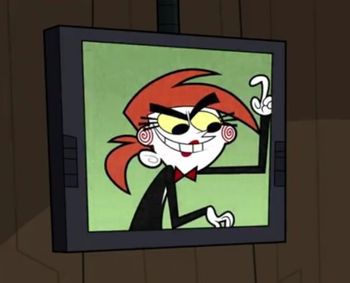 This page lists references to the Saw franchise in other media.
---
open/close all folders
Literature
In A Boy Made of Blocks, Matt and Clare watch an all-night Saw marathon during their weekend vacation from parenthood.
Live-Action TV
The Office (US): In "Koi Pond", Dwight dresses up as Billy the Puppet for Halloween.
Glee: In "The Hurt Locker Part 2", Sue locks Kurt and Blaine elevator. To communicate with them, she uses a version of Billy the Puppet that's designed to look like her.
Music
"The Jig Is Up", by Ice Nine Kills, is based on the franchise and sung from Jigsaw's point-of-view.
Web Original
Video Games
Persona 5 has a theater that can play a movie titled Pach-Saw. The premise affectionately parodies the premise of the first Saw movie, with two people locked in a room with a killer elephant by a mysterious person who calls it a "game".
Affectionately parodied, along with healthy doses of other horror films, in The Jackbox Party Pack's Trivia Murder Party, in which an unseen serial killer puts his victims in "super fun" life-or-death games, involving, among other things, self-mutilation, keys, and distrust and deadly choices between players, as retribution for not knowing tidbits of trivia.
Five Nights at Freddy's: Sister Location: Funtime Foxy's gimmick taking place in a dark room that you can illuminate with flashes of light is similar to the scene from the first movie where Adam is looking through his darkened apartment, using the flash of his camera to navigate.
Western Animation
---