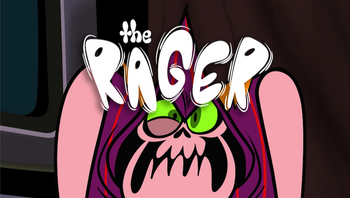 The Rager
Lord Hater captures various rulers and plans to execute them the next day, so Wander tries to work off their "last night alive" by throwing a party for them. Hater ends up joining in on the fun as well, forgetting entirely about his mission to reach the top of the Galactic Villain Leaderboard.
Tropes appearing in The Rager
---
The Good Bad Guy
Hater is excited when he meets his villain hero, Major Threat, but is shocked to hear that he has been recently reformed after a visit from a familiar space traveler. Hater tries all he can do to turn Threat evil again.
Tropes appearing in The Good Bad Guy
---