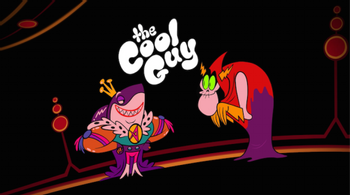 The Cool Guy
Lord Hater's next invasion is put on hold when he ditches Peepers and joins Emperor Awesome to hang out, resulting in him acting like a party-loving dude like Emperor Awesome and making Peepers feel left out.
Tropes appearing in The Cool Guy:
---
The Catastrophe
Sylvia's attendance at watching a jellyfish migration is disrupted when Wander becomes obsessed with funny cat videos, resulting in him missing everything. But Sylvia discovers that the videos are part of a more fiendish plot.
Tropes appearing in The Catastrophe
---