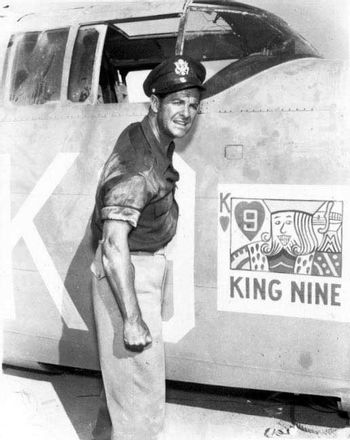 Rod Serling
: This is Africa, 1943. War spits out its violence overhead and the sandy graveyard swallows it up. Her name is
King Nine
, B-25, medium bomber, Twelfth Air Force. On a hot, still morning, she took off from Tunisia to bomb the southern tip of Italy. An errant piece of flak tore a hole in the wing tank and, like a wounded bird, this is where she landed, not to return on this day or any other day.
Air date: September 30, 1960
The World War II B-25 Mitchell bomber King Nine has crashed in the desert. Captain James Embry (Robert Cummings) finds himself stranded, alone except for the wreckage and the mystery of what happened to his crew, all of whom have disappeared. The movement of the plane in the wind and his visions of the missing men serve to heighten Embry's disorientation.
Embry finds the grave of one of his crewmen and sees, in the sky, Navy F9F Cougar (Blue Angels) jets, impossible for the time. He collapses in the sand, and we discover that he is actually suffering hallucinations from a hospital bed, 17 years after the crash.
Confident that Embry will recover, two doctors discuss that Embry's suffering has been triggered by a newspaper headline. The paper has reported the desert discovery of the long-lost King Nine, which had not returned to base from a mission during the war. Having come down with a fever just before he was to board the ill-fated flight, Embry had been replaced on the mission by another captain. Embry's sight of the headline has triggered survivor guilt, in which, we are to understand, he has imagined himself at the crash site.
The doctors assure Embry he has returned to the site only in his mind. A nurse, handling Embry's clothes for the doctors, discovers the shoes are mysteriously filled with sand.
Rod Serling
: Enigma buried in the sand, a question mark with broken wings that lies in silent grace as a marker in a desert shrine. Odd how the real consorts with the shadows, how the present fuses with the past. How does it happen? The question is on file in the silent desert. And the answer? The answer is waiting for us… in the Twilight Zone.
---
King Tropes Will Not Return:
---