Original air date: 2/10/1994 (produced in 1993)
Production code: 1F10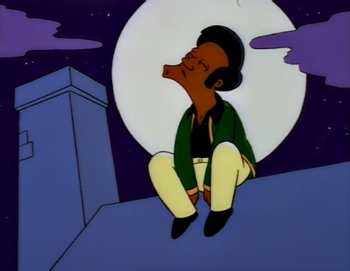 "Homer and Apu" is the thirteenth episode from the fifth season of
The Simpsons
. It features shopkeeper Apu bonding with Homer and his family after being fired from the Kwik-E-Mart (after Homer exposes Apu after getting sick with expired food), while
James Woods
is hired as his replacement.
---
Episode Summary
It's business as usual at the Kwik-E-Mart, with Apu grossly overcharging items to disgruntled customers, one of whom tries to crush a pack of Twinkies. Upon retrieving it, the shopkeeper finds a pack of ham that expired in
February 1989
and proceeds to mark the expiration date out and put it on a bargain bin. Before long, Homer buys and eats the ham and gets sick. When he complains about the store's bad food, Apu offers him expired shrimp, which Homer eats, getting sick again.
After watching the "Bite Back" investigation segment on the news, Lisa tells Homer he should expose the Kwik-E-Mart. Kent Brockman gives Homer an oversized hat with a camera inside, but Homer destroys it after Apu thinks the buzzing camera is a bee. Despite this, the camera manages to capture Apu placing a dirty frankfurter back in the cooker. After an embarrassing TV interview, Apu is fired by the Kwik-E-Mart's management, not because of his misdemeanors, but because they needed a scapegoat after the P.R. snafu. After a series of unsatisfactory prospects, they pick James Woods, who is doing research for an upcoming movie role, as a replacement.
After thinking the world is laughing at him (including the river—when it was actually two hobos tickling each other with feathers), Apu atones for his deeds and decides to go to the Simpson residence, where Homer mistakes a bizarre apology ritual for a strangling attempt by Apu, who in fact wants to settle his karma debt by helping him. While Homer rebuffs him, Apu declines to budge and the rest of the family feels gratified by this gesture and Apu breaks into a song, proclaiming he doesn't need the Kwik-E-Mart anymore. But as soon Homer thinks the episode is over, they find Apu crying on the roof thinking of his old job.
The one way Apu can get his job back is by consulting the head office of the Kwik-E-Mart Corp., established... atop a high mountain in India. There, the leader gives them three questions, which Homer blows by asking him if he was the head of the Kwik-E-Mart. After Apu strangles Homer (who thinks he was trying to apologize again), he decides to "face his demons" and go to the Kwik-E-Mart, where Woods is none too happy with the fact his character has been changed to a nervous Eskimo (meaning he will have to move to an igloo). While they talk about Apu once working 96 straight hours (although by the end, he thought he was a hummingbird), a robber shoots at Woods, but Apu takes the bullet. At the hospital, Dr. Hibbert informs that Apu survived because the bullet dislodged another from a previous robbery. A grateful Woods gives Apu his job back and leaves to "battle aliens in the sky". Seeing that there are a few seconds left to the episode, the family hugs Apu.
---
"Homer and Apu" provides examples of:
---