Original air date: 1/9/1992 (produced in 1991)
Production code: 8F11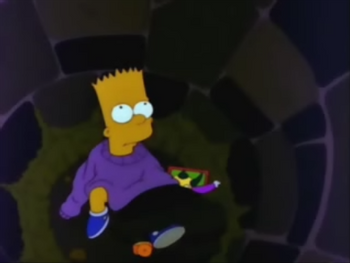 On October 14, 1987, 18-month-old Jessica McClure fell down a narrow well casing and remained trapped inside for 56 hours. Her story, and the rescue effort mobilized to get her out, got national headlines and made Jessica the darling of the media.
A few years later, in the fictional world of Springfield, Bart pulls a prank inspired by the McClure story, by fooling the town into believing a little boy had fallen down an uncapped abandoned well.
The whole story begins at Wall E. Weasel's, a family restaurant known for mediocre pizza, ill-maintained animatronics and bad video games. The birthday party there is even worse: Bart is annoyed at Wall E.'s attempt to sing him "Happy Birthday", the guests aren't who Bart wants at his party (Martin is one of the invitees) and he is especially disappointed in the gifts. One of those gifts (which Homer bought earlier after watching a TV commercial) is a toy called the Superstar Celebrity Microphone, which can tap into localized AM radio systems. Homer persuades Bart about the Superstar Celebrity Microphone's potential... and eventually, Bart realizes it can indeed be lots of fun, especially with his knack for creating practical jokes. He tricks Rod and Todd Flanders into believing God is talking to them, while he gets his dad to believe that martians are invading the Earth.
Then, one day while bored, Bart gets an idea: by throwing his transistor radio down a narrow well shaft, and keeping it tuned to the correct frequency, he can get people to believe that a little boy had fallen down the well. Which he does. When he begins a "crying for help" act and gets a response, he tells his potential rescuers that he is an orphan named Timmy O'Toole has fallen down the well. A rescue operation is mobilized – but it quickly becomes a circus, with people setting up a carnival, and they realize they can't get poor Timmy out. Meanwhile, Krusty the Clown gets musician Sting to join Springfield celebrities in recording a charity single, "We're Sending Our Love Down the Well". The charity single soars to No. 1 on the Billboard Hot 100.
Late one night, Lisa happens to be walking by Bart's room when she overhears him doing his "Timmy" act and then getting into a fight with Santa's Little Helper over the microphone. Lisa realizes that Bart is playing a cruel practical joke on the town and warns him that he will be exposed. Bart – after hastily explaining SLH's growling – scoffs, until Lisa reminds him that he used a label maker (one of the other gifts he was initially bored with) to put his name on the radio. Bart realises that if the radio with his name on it is retrieved from the well, he'll be in big trouble, so he sets out to get it. As he's descending the well, Bart slips and loses the grip on his rope. The rope falls to the bottom... and now, Bart is trapped for real.
Bart yells for help, and when he explains his predicament to the initial responders, Bart is forced to admit that Timmy O'Toole doesn't exist and that he was playing what he thought was a funny joke. The townspeople are outraged and decide to teach him a lesson by leaving him trapped there. At the same time, "We're Sending Our Love Down The Well" dramatically falls from No. 1 to No. 97, while Bart becomes the butt of jokes in town. The actual crisis is ignored by both the media and the police, prompting a frustrated Homer to finally take action and mobilize a crew of his own to rescue his son. Although nobody helps at first, Groundskeeper Willie decides that saving a life is more important than festering on anger and decides to help Homer; other residents – including Sting – realize they must do the right thing and eventually are able to excavate Bart out of the well.
Bart is truly regretful and has learned a lesson about how practical jokes can have serious consequences. The town then takes the utmost action to ensure that no incident like this ever happens again by putting up a sign in front of the well that reads "Caution: Well."
This episode provides examples of...
---