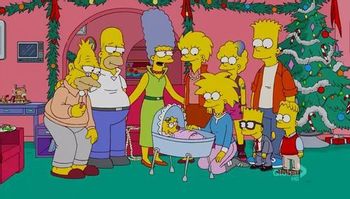 Original Air Date: December 11, 2011
A Christmas Episode of the show (and what could, at one point, have been the final episode of the entire series).
After Thanksgiving dinner, Marge sets the family up for holiday photos, much to their charign. She assures Bart and Lisa that they'll want to do this for their own kids someday, though Bart and Lisa are doubtful they'll have any.
The photo is taken and we see 30 years pass via the Christmas photos as the Simpsons kids grow older. Bart tries to go to a state college but flunks out a year after attending and moves back in with his parents before eventually being kicked out in his thirties. Within the next six years he marries his girlfriend from "Future-Drama" (Jenda) and has two sons (Jiff and Skippy), but ends up divorced. Lisa, not surprisingly, is more successful in her college endeavors and her love life. She has a string of lesbian affairs in college before settling down with Milhouse shortly after graduating and having a daughter, Zia. Maggie pursues a career in music and becomes a world famous rock star in her early twenties, despite that we the viewers still don't hear her voice. Homer and Marge remain married through the years, with Homer retiring and quitting alcohol.
In the current timeline, Bart is living in a broken-down apartment complex (that used to be Springfield Elementary) and barely keeping rent. His two young sons are beamed over as Bart's ex-wife wants Bart to spend time with them, something both the kids and he aren't entirely happy about. Bart figures to just dump them with his parents. Lisa lives moderately with Milhouse and their now teenage daughter, Zia, who spends all her time on the Neural-Net (The internet you plug into with an implant). Due to Milhouse's allergies, he suggests taking Zia to Lisa's parents house while he nurses his sinuses. Over in London, Maggie, while on tour, is shown to be pregnant with her baby due soon. The doctor orders her to not sing or use her voice as he explains "recent studies have shown the umbilical cord is also a vocal cord." Her band mates refuse to reveal who the father is when asked.
Marge and Homer get "B-Mail" (Brain Emails) that their kids and grandkids are all coming home to be with them during the holidays much to Marge's joy. Bart and Lisa arrive with their kids but Maggie is delayed as she is advised not to teleport while pregnant and has to take the commercial airlines which have descended into Mad Max-style brand of flight. Lisa tries to spend time with Zia but her daughter isn't willing, Marge suggests trying to be more "hands off" and give Zia some space. Bart likewise isn't having any luck with Jiff and Skippy, falling into depression when the boys reveal their mother remarried. Homer instead takes the two boys out on a trip to Downtown Springfield.
That night Bart and Lisa meet up in the treehouse and have a few drinks while discussing their problems. Both agree to try their best with their kids. Maggie arrives in Springfield but no sooner then she hails a taxi, which is driven by Kearney, her contractions begin and he takes her to the hospital. As the hospital is full, she has to be put in the manger wing. Lisa tries to take her mother's advice but can't go through with it and enter the Neural-Net to find her daughter. She manages to locate her thanks to Google and finds that her personal online room shows that Zia aspires to be like Lisa. The two reconcile. Bart tries to locate his sons and finds that Homer took them to go see Grandpa who is located in a cryo-lab located in a graveyard (Homer revealing Abe was frozen when he came down with a disease. They found the cure for it but Homer finds the Cryo-lab cheaper then a retirement home.)
During the visit, Homer teaches the boys that, though Bart may not be a perfect father, he still loves them all the same and to give him another chance. Bart arrives shortly after and apologizes to Jiff and Skippy, promising he'll do better and they too reconcile. Homer likewise reconciles with his father. During this Marge was informed of Maggie giving birth and is there for the birth of her baby girl. The family all reunite for Christmas and gather together for a Christmas photo, this time taken by their pets who have evolved into intelligent beings.
---
Holidays of Future Passed has the following tropes: