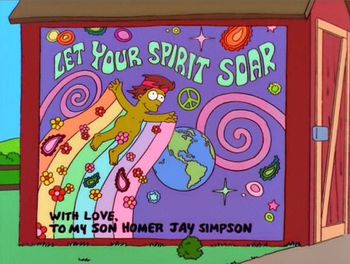 Original air date: 11/15/1998
Production code: AABF-02
After starring in an instructional video for the nuclear plant, Homer discovers while filling out his Screen Actors' Guild form that he doesn't know what the "J" in his middle name means, so Homer goes to a hippie commune (headed by two hippies turned businessmen named Seth and Munchie), finds his answer on a mural his mom painted — and decides to be as free and wild as the hippies of the 1960s were.
This episode provides examples of...
---
Uptown girl... She's my uptown girl... I know that I'm in love... With an uptown girl... I buried Flanders...