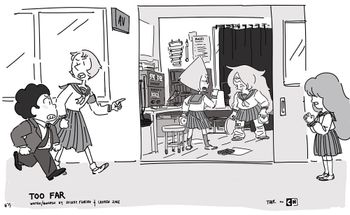 The Crystal Gems and Peridot are still at the barn, working on the plans for the drill machine to stop the Cluster. More accurately, Pearl is working on the blueprints. Peridot is petulantly dictating notes and logs into a tiny handheld tape recorder. But things are slowly coming along. Unfortunately, Peridot's clinging to the ways of Homeworld are agitating the other Gems.
She remarks on Pearl's singing and crying. She asks Garnet to unfuse, and Garnet responds by leashing her to the fence. Amethyst, however, finds Peridot amusing, given her overly-scientific terminology for tools and things around her. She asks the Homeworld Gem to name body parts, pointing to them:
Peridot: Scent sponge [nose]. Vision sphere [eye]. Touch stumps [fingers]. Gravity connectors [feet]. That's your BUTT!
Getting back to the project at hand, the Gems have decided they're nearly ready but they need a drill head. Peridot suggests going back to the Kindergarten and using an injector drill head. Garnet says Peridot is not permitted to return to the Kindergarten without a chaperone. Amethyst and Steven go along.
Amethyst teases Peridot for being a nerd while they seek out an appropriate drill head. Peridot likes the newer ones for being prettier with a finer finish but ultimately decides on an older one. Amethyst entertains herself by egging Peridot on to rant about Garnet (the Permafusion), Pearl, and Steven (some kind of hybrid abomination), until she embarrasses Steven into demanding Peridot find something else to talk about. Peridot tells Amethyst that she doesn't understand why she listens to Garnet and Pearl, given Homeworld methodology, she as a Quartz, outranks them both and should be a powerful soldier. Amethyst is bemused and intrigued at the idea of being in charge, encouraging Peridot to go on. Peridot does, but in her methodical, scientific, insensitive way, doesn't know when to stop. She finds Amethyst's hole and tells her she came out too late, which is why she's so small; as a Quartz, she should have been huge, tall and intimidating, but she's small and defective. Amethyst grows sullen and silent, but obediently uses her whip to cut the drill head off when Peridot asks and they return to the barn.
Peridot seems confused at Amethyst's sudden change of attitude toward her. She tells Steven she was being cool and that Amethyst loved it. Steven tells Peridot that Peridot is mistaken; she's hurt Amethyst's feelings, and that's why the purple Gem is behaving so coldly toward the green gem. He asks Peridot how it makes her feel to know that.
Peridot: ... Small.
To get away from feeling bad that she's hurt Amethyst, Peridot gets into the cockpit of the drill machine and begins tinkering with the control panel. But she accidentally starts it up. It begins whirling willy-nilly all over the yard, throwing Peridot off and causing her leash to get caught on a rock. Steven jumps into action to disable the drill.
Meanwhile, a sullen Amethyst wanders into the scene. Seeing her in danger, Peridot manages to snap her leash and knock Amethyst to safety. Steven finally yanks the control panel out, stopping the drill, which slows, stops, and falls over.
Steven: It's okay, everything's okay! It was just a drill!
A little while later, Peridot approaches and tries to talk to Amethyst, who is only slightly more kindly disposed to her due to having been saved from the drill. But Peridot can't make the words come and resorts to the recorder again. As usual, the recording starts with more insults about the Gems, but eventually turns inward on Peridot who admits to failing her mission, and has turned to working with the enemy — and is failing with that too because she has hurt someone she didn't mean to. She doesn't understand how or why, but she wants to. And is sorry.
Amethyst accepts the apology, declares Peridot still a nerd, and walks off, obviously feeling better. Steven and Peridot watch her go. Steven asks Peridot how she feels now that she's apologized.
Peridot: Big.
---
Tropes:
---