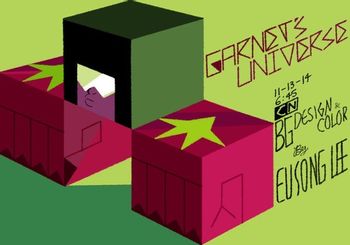 After Garnet returns home with a bubbled gem, Steven imagines how she got it. Steven, it turns out, is very fond of
shonen
anime
tropes.
In Steven's story, Garnet goes to train with her secret friends, Hopper and Hoppy (a frog and a rabbit respectively). She is eventually confronted by Ringo, the guardian of the Sacred Magic Gem of Ultimate Power, who was defeated and sent running by an anthropomorphic fox, who took over the shrine. Garnet goes to defeat the foxman, and does- but it turns out that he's the real guardian of the Gem of Ultimate Power. Ringo was just tricking Garnet in order to steal the gem himself. Which he does, putting it in his ring-shaped bun to become Ultimate Ringo. Garnet escapes and starts training to take him on.
When she eventually does, she is overpowered at first. However, you know that shonen trope where characters wear weighted clothing and then take it off for a sudden increase in power? Yeah, it's like that, but with her afro instead of clothing. The newly bald Garnet performs much better against Ultimate Ringo, but is eventually defeated- until Ringo decides to Kick the Dog by turning her picture of Steven into an onion ring and eating it. Garnet is so furious that her power level skyrockets (and her afro grows back bigger than ever) and she is finally able to defeat Ultimate Ringo and take the Gem of Ultimate Power from him.
She then bubbles the gem and returns to the temple, which is how she got to where she was in the beginning of the epsiode. Okay, that wasn't actually what Garnet did with her day, but let's just pretend it was, shall we?
---
Tropes:
---