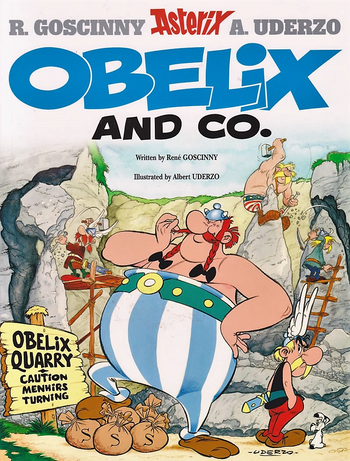 The twenty-third
Asterix
book is a satire of market capitalism and technocracy in general and then-Prime Minister Jacques Chirac in particular.
After Obelix single-handedly defeats a new regiment of Romans sent to Totorum (as part of a surprise birthday gift from the other villagers), Caesar is once again pondering what to do with the Gaulish village. He is approached by a young economist named Preposterus who comes up with a novel solution: by introducing "the profit motive" (i.e. capitalism) into the village, he hopes to make the Gauls decadent and complacent enough to avoid causing any trouble, citing Caesar's formerly brilliant but now lazy and fat generals as proof of the effects of wealth. Preposterus then moves to Totorum and spots Obelix in the forest carrying a menhir. Preposterus offers to buy all menhirs Obelix can make, claiming that the richest man in the village is also the most influential.
As time goes on, Preposterus keeps increasing the money he gives Obelix as well as convincing him to produce more menhirs, which leads him to start hiring people to help make them as well as to hunt boars to feed them. Obelix's new workload causes him to neglect Dogmatix and Asterix. The latter tries to teach Obelix a lesson by convincing other villagers like Unhygienix and Fulliautomatix to start their own menhir companies. Pretty soon, exactly half the village is producing menhirs while the rest is hunting boars to feed the other half. The only people not caught up in this are Vitalstatistix, Getafix and Asterix, with the latter believing that this will all blow over soon.
Meanwhile back in Rome, Caesar's treasury is being drained and he's stuck with a bunch of menhirs. Preposterus suggests selling them to wealthy Romans, marketing them as symbols of wealth and rank. The business becomes a huge success until a Roman businessman starts undercutting the market by making cheaper Roman menhirs. Caesar tries to ban the sale of the latter with no success and soon, the Phoenicians and Egyptians start producing their own menhirs, eventually crashing the market and making them all worthless. Caesar then orders Preposterus to return to Gaul and stop buying the Gaulish menhirs or be thrown to the lions.
Back in Gaul, Obelix is starting to get tired of his life as a businessman and wants things to go back to the way they were. He reconciles with Asterix and they go hunting like they used to. Meanwhile, Preposterus no longer buying the menhirs has naturally angered the rest of the villagers. Despite originally blaming Obelix, they then blame the Romans and do their thing. With the sestertius having been massively devalued back in Rome thanks to the whole mess, everyone is broke and everything goes back to normal in the village.
---
Tropes
---