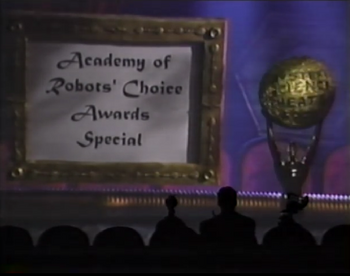 Films covered (in order of appearance):
The second of three blockbuster movie specials the show did on the Sci-Fi Network.
The Segments:
Prologue
By Al Gore's special vice presidential command, Mike and the Bots are ordered to do another Oscar showcase. Mike resists at first, but changes his mind after hearing that his driving record will be wiped clean if he goes through with it. In the theater, the 'Bots sing the opening number; Mike accompanies on claves.
Segment 1
Mike and the Bots begin the special with Mrs. Brown, The Wings of the Dove, starring and Good Will Hunting. Mike annoys Crow and Servo with his Good Will Hunting snowclones.
Segment 2
They continue the show with As Good as it Gets, a brief overview on Amistad, and Titanic.
Segment 3
Servo introduces Jackie Brown, but the three are shocked by the film. Servo then changes to Boogie Nights, to which Mike bluntly tell the two Bots that the film is about porn. They then change to Deconstructing Harry, but again they are squicked by the prostitution scene. Crow switches gears to supposed WWII historical film La Confidenciale, but is corrected by Mike: it's L.A. Confidential. The special concludes with they film the three believe will sweep the Oscars, Starship Troopers. During the credits, Mike allows Vice President Gore a hand at riffing, but it turns ugly fast.
---
This special contains examples of:
---