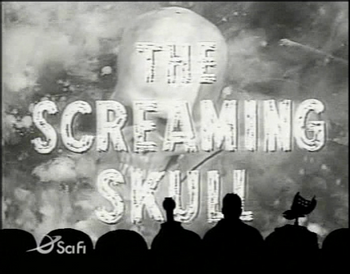 Films watched: Robot Rumpus (short) and The Screaming Skull
"Remember folks, if you die of boredom you do
not
get a free coffin. Sorry."
Notable for being the last MST3K that ever aired on cable TV, when its rerun contract with the Sci Fi Channel expired at the end of January 2004. Also notable for being the only episode in the original run to riff an animated feature.
The Segments:
Prologue
Servo changed into a beautiful butterfly! His proboscis grosses out Mike though.
Segment 1
Mike finds Servo back to normal, but the proboscis is still there. At Castle Forrester, Pearl urges Mike, Crow and Servo to put on their penguin costumes. They put on their animal costumes, but reveal the futility of Pearl's prank.
Segment 2
Traumatized from today's short, Crow and Servo show Mike their clay world, where well meaning robots are oppressed by quirky clay mounds. As the two Bots break down from the clay mounds' prejudice, Mike makes a note for Pearl to go easy on Gumby shorts. And also to please send Dizzy Grizzlies for the bots.
Segment 3
Crow and Servo crank call the film's distributors for their free coffins, but their plan goes too far ahead as Servo ends up ordering one.
Segment 4
Crow scares Mike as a screaming skull, but Mike goes overboard with fear.
Segment 5
The coffins arrive at the SOL, which Mike signs for an unwilling Servo. Bobo, in a monkey costume, calls Mike and the Bots for his urgent message, but receives their disapproval. He gets shrunk by Brain Guy for his trouble.
---
The presentation of Robot Rumpus as examples of:
The presentation of The Screaming Skull as examples of:
---
---