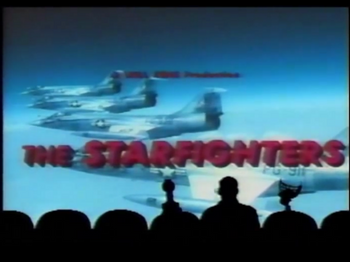 "So basically, according to themselves, the Air Force is a bunch of leather-faced, not-so-bright, heavy-drinking, dull-witted
speed freaks
who poop in their pants and can't make it with women. Right? Am I right?"
— Tom Servo
Film watched: The Starfighters
The Segments:
Prologue
Crow is trying to connect to the web, but keeps getting the same error. He then freaks out.
Segment 1
Crow still can't connect to the web, or to tech support. The Mads try to show their invention to Mike and the Bots, but they show off "Cowboy Mike's Ricochet (BANG) Barbecue Sauce", it's mighty bold!
Segment 2
Just as Crow and Servo reenact the refueling scenes from the movie, tech support finally connects. Crow tries to answer, but he's disconnected prematurely.
Segment 3
Servo and Crow, as generals, debrief Mike by debriefing him.
Segment 4
The United Servo Academy Men's Chorus, conducted by Vice Brigadier Thomas "Bullhead" Servo perform the United Servo Academy Men's Chorus Hymn. Host Mike is pleased til the Chorus launches into a Bawdy Song.
Segment 5
Crow finally connects to the internet as Mike reads a letter from a group of people who put an effigy of Servo as their Christmas tree topper. The Mads are still neurally connected, while Frank thinks some nasty thoughts.
---
The MST3K presentation provides examples of:
---
---