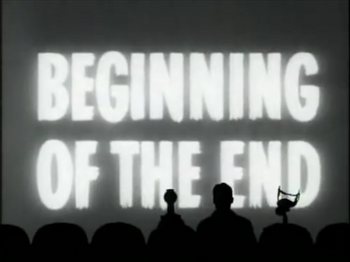 Film watched: Beginning of the End
The episode is available to stream here
.
The Segments:
Prologue
Mike, Crow and Servo sing some old standards, but are interrupted by a lady calling from the Hexfield. Mike tries to clarify, but she still thinks that "Arnie" is there.
Segment 1
Mike stealthily hangs up on the lady, much to Servo's amusement. For this week's Invention Exchange, the Mads present the re-comfy bike, a cozy recumbent bike, which Frank sleeps in. Mike, Servo and Crow show off their new playing cards, the Eight of Chris Lemmon, Todd and the Crow of Diamonds.
Segment 2
Despite Crow and Servo's objections, Mike calls up the Mads. Dr. Forrester and Frank, when they aren't terrorizing the SOL with bad movies, act like a married couple. This gets Mike and the Bots really uncomfortable really fast.
Segment 3
Crow shows off his new screenplay, Peter Graves at the University of Minnesota. Mike and Servo then get annoyed from Crow's redundancies.
Segment 4
Servo shows off his locust themed stand up routine, but Crow and Mike are unimpressed.
Segment 5
Mike and the Bots read some letters, including a postcard from members of the Kim Cattrall Fan Club. This leads to other postcards used with a plastic grasshopper as in Bert I. Gordon special effects. Meanwhile, The Mads duke it out with some manly boxing.
---
The MST3K presentation provides examples of:
---
---