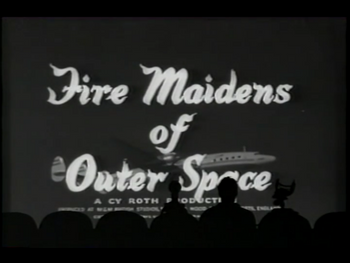 Film watched: Fire Maidens from Outer Space
The Segments
Prologue
Joel teaches the Bots proper posture, which leads to the crowning of the king and queen of posture. As the he and the Bots leave for commercial sign, a shadowed figure appears and attacks Cambot and Magic Voice.
Segment 1
Crow introduces the dark stranger, Timmy, to Joel and Servo. The Mads present the Big Checkbook as their invention for this week. Joel shows off sneakers that squirt out cheese, perfect for post race snacking.
Segment 2
Joel helps Servo with the art of double entendres. Timmy suggest dirtier ones to Crow, much to great disapproval.
Segment 3
Inspired by today's film, Joel invents Twin Screw Universal Controller. Crow gets blamed for Timmy's actions, despite his objections. As Joel demonstrates the controller, Timmy screws around with it, ending up with Joel roasting Servo over a pit.
Segment 4
After Servo gets attacked by Timmy in the theater, Joel and Crow go out and help him. On the bridge Servo is cocooned on the wall begging for death while Crow fights Timmy. Joel arrives to attack Timmy with a broom and send him off the airlock. Relived from the specter, Joel apologizes to Crow for today's turn of events.
Segment 5
Joel helps through the Bots' trauma of the film's padding and Timmy through letter readings. Back in Deep 13, Frank adopts Timmy, but is greeted with a finger bite.
---
The MST3K presentation provides examples of:
---
---