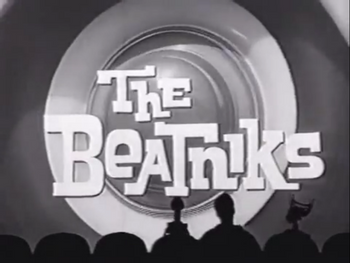 Films watched: General Hospital (short) and The Beatniks
The short was the second of three 1960s segments from the soap opera General Hospital to air on the series.
---
The Segments:
Prologue
Joel introduces Crow and Servo to rock-paper-scissors, much to his victory and the two bots' distress. He then gets a warning from Magic Voice for his roughhousing. After suggesting a game of mumbley-peg, Joel gets tackled by Gypsy.
Segment 1
Joel and the Bots return with injuries and complaints. For this week's Invention Exchange, the Mads dress up as good luck trolls to get popular with the ladies. Joel demonstrates his invention, Pocket Pool, with balls in his pants.
Segment 2
Joel and the Bots complain that the beatniks in today's experiment aren't really beatniks, and if they are, then some other lame people are. They then tell the signs of how someone is not a beatnik.
Segment 3
The Bots are having a sleepover, while fangirling over Tony Travis. They gossip over him, to which Joel arrives with Tony's phone number. When they dial his number, the Bots find out that Tony works at a taco restaurant, debt-ridden, and living with roommates. The Bots' hopes are dashed, but their object of affection is soon replaced with Mooney.
Segment 4
Joel and the Bots show the life and times of Tom Servo the singer: humble beginnings, romance, stardom, & his fall from grace.
Segment 5
Joel and Servo read the letters while Crow chases Gypsy with a knife. The first letter asks if "dickweed" is a swear, to the two's approval that is not. Crow arrives on the bridge and starts stabbing Servo. Back in Deep 13, Frank tries to push the button with his four fingers.
---
The MST3K treatment provides examples of:
---
---