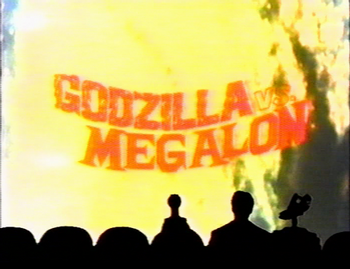 Film watched: ''Godzilla vs. Megalon"
Joel and the bots make fun of a Godzilla Movie that wasn't meant to be a Godzilla Movie.
The shot of Godzilla's awe-inspiring tail-slide dropkick to Megalon would be incorporated in the show's opening credits for three seasons (3-5).
The Segments:
Prologue
Joel and the Bots introduce an array of household tips, special guests and other stories to be seen later.
Segment 1
For this week's Invention Exchange, Joel and the Bots dress up in last minute costumes, as a movie theater floor, a Face on a Milk Carton and Jiffy Pop. The Mads also get in to the action, with Dr. Forrester as a foosball goalie and Frank as Geordi La Forge.
Segment 2
While Crow and Servo look at incriminating Polaroids, they distract a nosy Joel with their own "monster creations".
Segment 3
The SOL proudly presents: Rex Dart, Eskimo Spy!
Segment 4
While shooting a commercial for their new popping corn, Orville Redenbacher and grandson take a dark turn to a family squabble.
Segment 5
Joel upgrades the two Bots with new arms, Crow having a lobster arm and Servo a flamethrower. They soon play a subtitled version of the Jet Jaguar song and read letters. Meanwhile Frank cries over Super Mario Bros.
---
The MST3K version provided examples of:
---
---