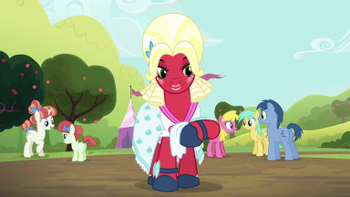 "That's Big Mac in a dress."
— Sweetie Belle
Written by Dave Polsky
Applejack and Apple Bloom are preparing for the upcoming Sisterhooves Social event, with Apple Bloom extolling Applejack's better qualities, confident that they're going to win blue ribbons. Unbeknownst to Apple Bloom, Big Macintosh is watching from the barn, upset over not getting as much time with his little sister. As Granny Smith searches for a blue ribbon from a previous Sisterhooves Social, she comes across a dragonfly toy that Big Mac used to use to impress Apple Bloom. He brings it outside to show her, but is brushed off in favor of Applejack. Big Mac sadly sulks off to the barn when Applejack's cutie mark begins to glow, being summoned by the Crystal Map in Twilight's castle.
Upon returning, Applejack informs her family that she's been summoned to Manehattan, and will be missing the Sisterhooves Social. Apple Bloom falls into a slump, upset that she and Applejack won't get to participate this year. Sweetie Belle and Scootaloo drop by, inviting Apple Bloom to cheer on Scootaloo and Rainbow Dash, who are participating in the Social. Apple Bloom agrees, with Granny Smith wondering how to cheer her up. This gives Big Mac an idea: he'll dress up as Apple Bloom's cousin, Orchard Blossom, and participate in the Sisterhooves Social with her.
Despite everypony seeing through Big Mac's disguise immediately, he's allowed to compete with Apple Bloom as Orchard Blossom. Unfortunately, because he had no time to prepare, every routine Big Mac and Apple Bloom try inevitably fails. Finally, the last event is the obstacle course race, which Big Mac is determined to win. He rushes through the course with Apple Bloom, smashing through the obstacles instead of climbing over them, and bucking other teams out of the way to cross the finish line first. After managing to pass Rainbow Dash and Scootaloo, Big Mac and Apple Bloom cross the finish line first, his disguise falling off as he celebrates. However, because of all of Big Mac's destructive behavior, as well as unsportsmanlike conduct in the race, he and Apple Bloom are disqualified.
Back at Sweet Apple Acres, Apple Bloom attempts to console Big Mac, who isn't having any of it. Finally, he opens up that, with Apple Bloom always looking up to Applejack for saving Equestria and going off on adventures, he feels rather left out just doing chores on the farm, and that if he got a blue ribbon for Apple Bloom, then he'd be somepony she could look up to again. Apple Bloom embraces Big Mac, telling him that he's still a hero to her. Granny Smith calls the two of them down to the barn, but Apple Bloom says they'll be a minute, as she wants to spend some quality time with her big brother.
---
Tropes:
---