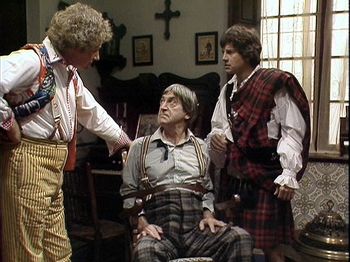 "I'm not interested in the beliefs of primitives, only in what they taste like."
— Shockeye
Production code: 6W
The one where the Sixth Doctor MURDERS someone in Spain.
Here we are, the final multi-Doctor adventure of the old TV series. (Well... sort of.) There wasn't really a reason for this one to happen, but Patrick Troughton had had so much fun on "The Five Doctors" that he was eager to return to the series. It provided producer John Nathan-Turner a fantastic excuse to work outside Great Britain for the third time in his reign (and the fourth time in the franchise's history). It was originally slated to be in New Orleans, but even the most optimistic people realized that this was completely insane, so it was quickly changed to Seville, Spain.
Written by Robert Holmes. This three-episode serial first aired from February 16 to March 2, 1985. Incidentally, the 45-minute length of each episode meant that the story's total runtime was comparable to the six-part serials that Nathan-Turner had done away with when he became producer in 1980; accordingly, international airings reedited the story into six 25-minute parts.
---
Our story starts off with the Second Doctor and Jamie being sent around time and space, on a mission from the Time Lords, with whom they never actively cooperated in any of the Second Doctor's previous serials, not to mention that Jamie actually
knows
about the Time Lords; they also look far older than they did in "
The War Games
"; they even mention Victoria as if she has recently been traveling with them, with the Doctor mentioning that she is studying graphology and Jaime asking if they will be able to get back to her after this mission. None of this is never explained or mentioned in any way (although the
"Season 6B" theory
is a popular way of explaining it, and made it into some later BBC-sanctioned content such as
Terrance Dicks
' novels. Then again, other BBC-sanctioned content has also explained this whilst managing to keep continuity with the Second Doctor's original serials).
This time, they head off to a space station where a doctor named Dastari is making some incredible leaps forward in time travel science that the Time Lords are objecting to in some fashion. Dastari objects to the Time Lords being their Jerkass selves and gets into an argument with the Doctor, who isn't exactly thrilled to be there either. But since the Time Lords can always claim that they had nothing to do with him, they're using him as the perfect scapegoat while threatening Dastari. Dastari also reveals that his lady-friend Chessene is actually an artificially evolved Androgum, an idea that horrifies the Doctor. Meanwhile, Sontarans invade the space station — and the Doctor orders Jamie to run away as they point their guns at the Doctor...
Cut over to the Sixth Doctor, who is having a nice fishing holiday with Peri. The Doctor suggests heading off to the Eye of Orion... and then collapses in pain and agony. Cut to Jamie back on the station seeing the Second Doctor dying miserably. The Sixth Doctor reawakens, having just seen a mental image of his second self being put to death. Realizing this can't be possible as he's still alive in the future, he decides to go figure out what the hell just happened anyway — deciding to consult Dastari on what is going on.
The Doctor and Peri bumble around the space station until they finally stumble onto an incoherent Jamie. He reveals that the Second Doctor was just killed. The Sixth Doctor figures this has to be a lie, as time hasn't wiped him out yet, and fiddles around the station until he figures out that it was all just an illusion. This means, Sixth figures, that his Second self is being held captive somewhere. He puts himself into a trance to try and find him mentally. Waking up some time later, the Doctor comes to the realization that Two is being held in Seville, Spain, by the Sontarans, as is Dastari.
However, Dastari is in fact a willing accomplice of the villains, as most of the planning is being done by his lady-friend Chessene and an "Androgum" called Shockeye... a stereotypical alien-Scotsman who really likes to eat meat. (This makes more sense when you know that the author intended the story to be a pro-vegetarianism allegory.)
The Sixth Doctor lands the TARDIS outside Seville. They're approached by a vacationing couple: Oscar Botcherby and Anita. Oscar is managing a restaurant in the city, but is currently catching moths. As it turns out, Oscar also happened to see what he thought was a plane crash earlier on a mansion — but it just so happened to be the Sontarans' spaceship landing to meet up with Chessene. Seeing the TARDIS, he mistakes the heroes for British policemen. Sixth is then escorted to said mansion, which he scouts out for a little while, having told everyone else to wait just out of sight.
Dastari and the Second Doctor have a nice little talk, where it turns out Dastari now wants to give the Doctor's Time Lord DNA to Chessene as well to make her even more awesome... completely ignoring the fact that the base of Chessene's enhanced DNA, Shockeye, is a ginger backstabbing alien bastard with a lust for power and hunger for flesh.
Jamie and Sixth go down to the basement of the building and find a mini-TARDIS under construction. The Doctor talks technobabble to Jamie about how they won't be able to complete it, and Jamie just looks at the Doctor like he's got a Sontaran behind him. Which he does. Meanwhile, Peri decides to wander into the mansion on her own, posing as a lost American student... which doesn't work either, as Shockeye decides she'll make a lovely lunch.
Jamie and the Sixth Doctor escape the Sontaran without much trouble, but one part of the technobabble that the Sontarans/Dastari need to complete the mini-TARDIS is given to them. They also find the Second Doctor tied up in a wheelchair, finally awake again. However, before they can escape with the Sixth's younger self, Shockeye comes back into the mansion, Peri over his shoulder.
The subplot with the mini-TARDIS and the Sontarans is eventually resolved. Chessene also decides to try and kill off the Sontarans before they can take the mini-TARDIS for themselves, intending to give it to her own Androgum people. Peri is rescued without much difficulty while Shockeye is busy elsewhere.
Dastari, for his part, has converted the Second Doctor into a half-Androgum with ginger eyebrows, to make him a consort for Chessene. Shockeye is miffed at this, as Dastari used his blood to do so, until the Second Doctor decides that he wants to go eat a lot of food and knows where to go. Shockeye, being an Androgum, goes happily along with the Doctor. The two of them indulge in their Horror Hunger in matching top hats and have a massive feast at the restaurant run by Oscar. When Oscar rather politely presents the bill, he's killed by Shockeye. The Sixth Doctor, Jamie and Peri arrive just in time to see Oscar die, Anita cry, and the Second Doctor revert to normal... because apparently an hour has passed and his body rejected the conversion or something. They are then all immediately captured by Chessene.
The two Doctors and Peri are locked in the cellar while Jamie, meanwhile, is being "tenderized" by Shockeye for the next meal. The Sixth Doctor gets free and has a brief scuffle with Shockeye who pursues him. Chessene decides to elaborately lick some blood from Six' new stab wound from her fingers. Stumbling across Oscar's moth-catching equipment, Sixth uses the cyanide-soaked cotton balls stored in a jar to kill Shockeye and then delivers a Bond One-Liner: "Shockeye got his just... desserts". Chessene begins to revert back to her Androgum heritage, which disgusts Dastari, who decides to free the Second Doctor and Peri. Chessene shoots Dastari and flees in the mini-TARDIS, which then explodes and kills her before it really goes anywhere because of the sabotage that the Sixth Doctor did to it not long ago.
The entire plot resolved, the Sixth Doctor and Second Doctor exchange banter before Second summons up his own TARDIS using a Stattenheim remote control. Six expresses a little jealousy over the remote as Two and Jamie leave off on more adventures we'll never see, presumably losing the remote again along the way. Six and Peri leave the mansion, and both decide to vow to become vegetarians thanks to their horrid experiences with the Androgums.
---
As an interesting note, the Doctor will remain a vegetarian until the Ninth Doctor orders a steak in
"Boom Town"
(he also almost eats a roast in
"The Empty Child"
).
Russell T Davies
deliberately wrote his Ninth Doctor as a meat-eater again, to signify
Character Development
and the Doctor's change in attitude compared to the
John Nathan-Turner
days.
---
Tropes:
---