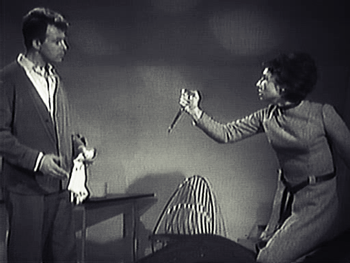 "As we learn about each other, so we learn about ourselves."
— The Doctor begins to warm up to his companions, and vice versa
The one where Susan stabs a mattress. Also the one where the Doctor's hearts grew three sizes.
Written by David Whitaker. This two-episode serial first aired from February 8-15, 1964.
Episodes: "The Edge of Destruction", "The Brink of Disaster".
---
One of Doctor Who's few Bottle Episodes, "The Edge of Destruction" (a.k.a. "Inside the Spaceship") is a two-part oddity wedged between two longer stories. Originally, the show was confirmed for four episodes (the opening story) to be reviewed up... then it was increased to 13, two more than "The Daleks" allowed for. Worse, there was no money for sets or extras. Although it's a filler story, the serial triggers some very important Character Development for the Doctor and his friendship with Barbara.
---
The TARDIS lurches and everyone falls over, and when they get back up again, everyone's acting a bit odd. Weird stuff starts happening and the Doctor suspects there's an alien presence on board and gets very paranoid. He accuses Ian and Barbara of sabotage, drugs their cocoa, and is himself attacked by Susan running with scissors.
Turns out it's the TARDIS itself that's the problem. The Doctor hit the Fast Return Switch at the end of "The Daleks", but it got stuck and the TARDIS has been whizzing back in time to the creation of the Universe... and, therefore, destruction. The weird stuff was the ship trying to warn its crew, who fix the problem (a faulty spring; lovely 1960s space technology) and go on their way. The Doctor apologises to Barbara for having been an utter git to her, and acknowledges that she saved their lives by realising the TARDIS was talking to them all along.
---
Tropes:
---