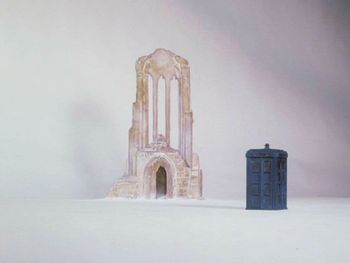 "One good solid hope's worth a cart-load of certainties."
— The Doctor
The one where Doctor Who meets that one part in The Wind Waker.
Written by Steve Gallagher. This four-episode serial first aired from January 3—24, 1981.
---
The Doctor, Romana, K-9 and Adric are still stuck in E-Space. While they're trying to figure out a way back into N-Space (our universe), the TARDIS is hijacked by a lion-headed Humanoid Alien that walks in through the TARDIS doors while the TARDIS is still in flight. The alien brings the TARDIS to land, announces that his name is Biroc and that they should not trust the people they are about to meet, and departs as mysteriously as he came.
Our heroes find themselves in a Blank White Void, empty except for the TARDIS, a stranded spaceship (whose crew, led by Captain Rorvik, are indeed untrustworthy), and an incongruous ruined stone building.
Many confusing things happen. And Adric flips coins a lot.
It turns out that the void is some kind of pocket dimension that is on (or, perhaps, somehow is) the boundary between N-Space and E-Space. When they eventually find the way out, consequently, our heroes are able to choose which way out to go. The Doctor and Adric return to N-Space in the TARDIS, while Romana and K-9 decide to return to E-Space and help Biroc in his continuing quest.
---
Tropes
---