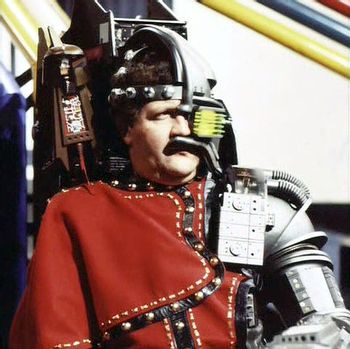 "What is it you're really up to, eh? What do you want? You don't want to take over the universe do you? No. You wouldn't know what to do with it beyond shout at it."
— The Doctor
Production code: 5B
The one where two Large Hams meet on screen and proceed to completely nuke the scenery while providing glorious television to watch. Surprisingly, neither of them is BRIAN BLESSED; that's not for another eight years!
Written by Douglas Adams. This four-episode serial first aired from September 30 to October 21, 1978.
---
The search for the Key to Time takes the Doctor and Romana to Calufrax. The coordinates are right, but it's too warm and inviting a world to be Calufrax. In fact, the TARDIS lands them on Zanak, the World of Ham. But the Tracer is going berserk — it's sensing the second Key to Time segment everywhere.
It turns out that the planet Zanak has been hollowed out and fitted with engines, and is now piloted by the demented Captain. While, sadly, this magnificently Large Ham may not be portrayed by BRIAN BLESSED, he is, instead, a Hollywood Cyborg, always accompanied by a rather stoic nursemaid. His job is to teleport Zanak into position around other planets, suck them dry and mount the shrivelled and supercompressed husks in a trophy room.
The nursemaid turns out to be the real brains behind the operation, a holographic projection of Zanak's Queen Xanxia, using time dams and the forces generated by the trophy room to remain young. The Captain announces that Zanak's next target is Earth, and the Doctor enlists the telekinetic help of La Résistance — the native Mentiads — to sabotage the engines by simply throwing a spanner into them. The Captain rebels and is killed by Xanxia, whose avatar is in turn killed by one of the natives. The Doctor and the Mentiads then blow up the bridge, killing the real Xanxia.
The Doctor realises that the segment of the Key to Time he is after is in fact the entire planet Calufrax, now conveniently shrunk to a rather more manageable size.
---
Tropes
Hollywood Cyborg: The Captain, as the result of a crash he was involved in.
Immortality Immorality: Xanxia's time dams require large amounts of energy to function, so she directs her minions to sacrifice entire planets to provide energy.
O.O.C. Is Serious Business: We've seen the Fourth Doctor jovial and flippant in the face of evil, though he knew when to be serious. This is one of the few times he ever got really angry at an atrocity.
Pin-Pulling Teeth: The Doctor imitates this with a bag of licqourice allsorts.
---