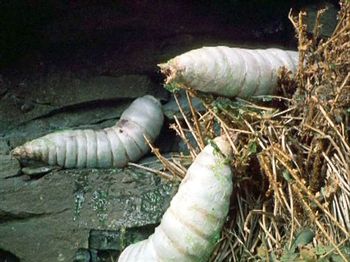 "Stevens, listen to me. You've seen where this efficiency of yours leads. Wholesale pollution of the countryside. Devilish creatures spawned by the filthy by-products of your technology. Men... men walking around like brainless vegetables. Death. Disease. Destruction."
— The Doctor gets all eco-warrior
The one where the Doctor goes crossdressing, and we say goodbye to Jo Grant.
Written by Robert Sloman and Barry Letts (uncredited). This six-episode serial first aired from May 19 to June 23, 1973.
---
A Welsh miner is found dead, his skin glowing bright green. UNIT is naturally called in to the village of Llanfairfach to investigate. A local environmental group, led by Professor Clifford Jones, has been investigating the work of nearby Global Chemicals. The Doctor can't bring himself to care and goes on a nice holiday to the planet Metebelis III instead. Jo and the Brigadier pay visit to Llanfairfach. They discover that the mine workings are full of giant maggots and green goo, both by-products of Global Chemicals' plant. People at the company also have a tendency to get hypnotised and start rambling about "the Boss".
Metebelis III turns out to be the planet of Everything Trying to Kill You, so the Doctor hastily rejoins the plot back on Earth, carrying a shiny crystal as a souvenir. He rescues Jo, who fell down a mineshaft, and discovers that the place is crawling with giant alien maggots.
Clifford, who's a charismatic long-haired Deadpan Snarker and lives in a hippie commune, also happens to be a genius biologist who's working on a revolutionary new fungus that could globally replace meat. He and Jo get along very well (after some initial mutual snarking). The Doctor is also a big fan of his papers, and soon enough, the whole gang is happily drinking fine wine and eating fungus. But with a whole lot of maggots still out there, UNIT decides to infiltrate Global Chemicals: Mike Yates as an office drone, and the Doctor as a Welsh milkman and a harmless old cleaning lady.
The plant is run by Stevens, who has been taken over by the intelligent computer BOSS (Bimorphic Organisational Systems Supervisor), which plans to seize power by linking to every other major computer in the world. BOSS was originally built by Stevens, became self-aware, and soon realised that human creativity is based on human error. He ordered Stevens to program human error into his system. Enjoying his new creative powers, and merrily humming Beethoven, BOSS toys with the Doctor a bit but can't even make a dent in his Time Lord psyche. The Doctor uses a large blue crystal he picked up on Metebelis III to break BOSS' hold on Stevens, and Stevens — in a grand Heroic Sacrifice — programs BOSS to self-destruct. Meanwhile, the maggots, which are beginning to pupate into giant flies, are destroyed with Clifford's fungus.
In the midst of all this, Jo has fallen in love with Clifford, and decides to leave the Doctor to go get married and explore the Amazon rainforest (in that order). She pulls some strings with her uncle to get Clifford all the funding he'll ever need. As the whole group celebrates, the Doctor puts everyone to shame by giving Jo an early wedding present: the Metebelis Crystal, and asks them to save some wedding cake for him. Jo asks if he minds that she's leaving. He does, of course, but he hides how much it hurts behind pride - yes, she's leaving him, but she's leaving him to do supremely nerdy things and how could he disapprove of that? It's what he does, after all. He notes that her trip down the Amazon may actually turn her into a scientist after all. But as the party starts to get into full swing the Doctor chugs a glass of wine and quietly slips away, noticed only by Jo who sends him an understanding look.
The Doctor takes one final look back at the cottage, before he, saddened by the departure of his good friend but proud of where she's going and what she'll do, drives into the sunset. As the Novelisation states: "-and a tear rolled down the Doctor's 900 year old cheek..."
The planet of Metebelis III will become important again soon enough. And Jo will meet the Doctor again, although much, much later.
---
An excellent tongue-in-cheek Mockumentary sequel short film, "Global Conspiracy", was created by Mark Gatiss in 2004 for the serial's home video releases and stars most of the original cast and a Sequel Episode, "The Green Life," featuring Jo Grant investigating modern Llanfairfach with Captain Jack Harkness was released as part of the Torchwood range by Big Finish in 2019.
Tropes
---
Tropes in Global Conspiracy:
---