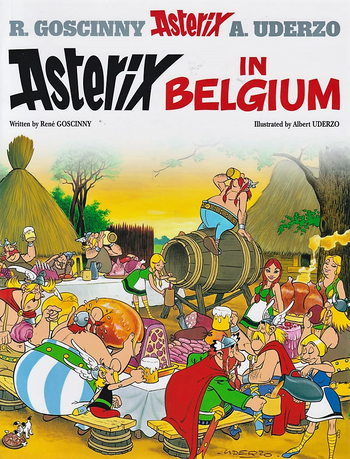 For the twenty-fourth Asterix book, Goscinny and Uderzo's satirical eyes turn to France's northern neighbour. It is the last book René Goscinny was involved in, as he died during its making. Word of God says that this is why the skies are constantly overcast once the Gauls reach Belgium (in particular, the rain that begins falling on p.29 marks the point at which Goscinny died).
When the Gauls hear that Caesar stated the Belgians were the bravest enemies he's ever faced — which was an actual quote by Caesar, by the way — Vitalstatistix, Asterix and Obelix go to Belgium to defend the Gauls' honour. There, they meet the clans of Belgians, led by the chiefs Beefix and Brawnix. They propose a competition, razing Roman camps and telling the Romans who beat them to make the Romans decide for themselves which side is fiercer.
When wind of this reaches Julius Caesar, he amasses an army to restore order. When he learns that the whole revolution is a mere competition, he angrily declares war on the Belgians, who decide this is now a local issue and tell the Gauls to stand aside. In the end, the Gauls save the day by helping out anyway and Caesar is sent limping home.
On the way from the battlefield, he again meets the three chiefs, who ask him for his decision there and then. Caesar replies that he does not care - they are all equally crazy! - and leaves. The Gauls and Belgians interpret this to mean that it's a draw. Then there is a banquet, of course.
---
Tropes
---
"These Belgians are Crazy!"