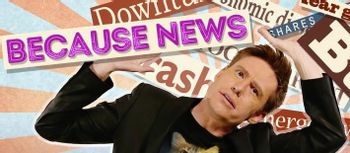 Because News
is a half-hour
CBC Radio
Panel Game
hosted by
Gavin Crawford
, and is arguably the first notable Canadian panel game of its kind since
Front Page Challenge
.
The format could best be described as a cross between Mock the Week, I'm Sorry I Haven't a Clue and @Midnight: there are no teams or captains, and each episode three contestants compete for points as they answer questions on the hottest news of the week from Canada and around the world. The listening audience is encouraged to participate in the discussion via designated Twitter hashtags. Compare to NPR's Wait, Wait, Don't Tell Me.
Unusually for a panel game, Because News has very few recurring games. There are, however, a few semi-regularly occurring games:
Hashtag Challenge: Essentially a reimagining of Hashtag Wars, this is a quick-fire round where panelists must come up with snappy punchlines around a certain theme.
Needlessly Redacted: Recorded spoken statements from news reports with particular sections blanked out, and left for contestants to guess.
Never Read the Comments: Two members of the studio audience read actual comments on news articles from CBC.ca's website, and the panelists must guess which story they're talking about.
#RageWorthy: Panelists discuss whether a particular controversial issue deserved the backlash it got.
The rest of the time, one-off games are made up to suit the news stories. For instance, in one week where several aspiring election hopefuls had to pull out of the race because of some unfortunate social media gaffes, contestants played a Wheel of Fortune parody where they had to guess which gaffe went with which candidate.
Contestants on the show have included the likes of Jann Arden, Mike Bullard, Alan Doyle, JusReign
, Debra McGrath, Rick Mercer, Colin Mochrie, Steve Patterson, Eric Peterson, Scott Thompson and Mary Walsh.
---
This show contains examples of the following tropes: