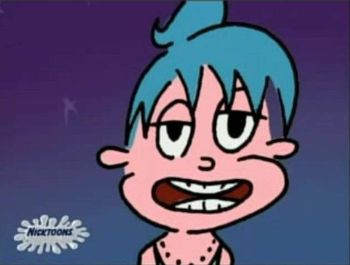 KaBlam!
has many instances of
Getting Crap Past the Radar
. Considering
what channel it was on
, you could see it coming.
---
open/close all folders
Henry & June
This could very well be a coincidence, but Henry & June were also the names of a controversial writer and his sexually adventurous wife.
Action League Now
In an Action League Now short, Stinky Diver got eaten by a dog. The episode ended with a cliffhanger. In the next part, Stinky is alive, and gives hints that he came out the other end.
The Flesh is literally naked. Fortunately, Barbie Doll Anatomy is in full effect, but imagine if he was a real person and not a modified Conan the Barbarian action figure...
Life with Loopy
In the episode "Mother nature Bowl-Off", there's a scene when Loopy and Mother Nature are bowling that shows the score card with insults written on it. One clearly says, "Loopy SUX".

It's not that it's bad, but the censors (and some parents) don't like that.

The episode "Loopy And The Lost Voice" features a scene with Loopy going to a Lost-And-Found store to test out some temporary voices, having lost her own voice from shouting too much. The voice devices she tries unsettlingly look like sleeveless fleshlights.
Sniz And Fondue
In a Sniz and Fondue short, Fondue wants to be a fashion designer and shows Sniz his designs. One of them shows a woman ferret (which is what everyone in the short is) with a fish on each breast. And no, this one wasn't televised on Nicktoons. Not even by itself.
Other
In one "Race Rabbit" short, there's a button on the control panel that says "Sexy Music."
In some Prometheus and Bob shorts, if you listen closely you can clearly hear Prometheus say "What the hell" and "Oh my God" a few times.