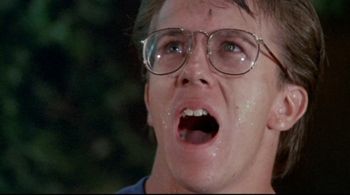 Reginald Kincaid: The Shadow of Death. The gripping drama was the last play presented at the Orpheum. It closed after only one night, but not without garnering some praise. Harris in the Daily Telegram said, 'In an otherwise dismal evening, Reginald Kincaid provided some welcome laughs.'
Wiggins: You said it was a gripping drama!
The plots of some films are treated as Serious Business by those involved. But sometimes, they're funnier than they were meant to be.
---
Movies/franchises with their own pages:
<!—index—>
<!—/index—>
---
Individual examples:
Straight examples:
<!—index—>
General examples and parodies:
General Examples and Parodies
Parodied mercilessly in Dirty Work: "Now he's taken my chainsaw, and he's using it on ME!"
A good portion of the humor in Mystery Science Theater 3000 comes from the characters pointing out the Narm in badly-received movies.
The Wilhelm Scream. Have a look (and listen) to the compilation here. It works as a funny scream, but seems out of place as a serious, pained scream.
Trey Parker and Matt Stone did this a lot when they were doing live-action movies. Notable examples include dramatically turning away while speaking in Baseketball and a gang-banger shouting "CURSES!" after being thwarted in Orgazmo. Team America: World Police was explicitly stated to be a Jerry Bruckheimer film played dead straight, with the only sign of self-awareness being that everyone was played by a marionette.
In general it's harder to take the early work of Leslie Nielsen seriously since he later made a comedic career out of playing The Comically Serious, which makes watching him play serious roles feel like the set up to a joke.
---