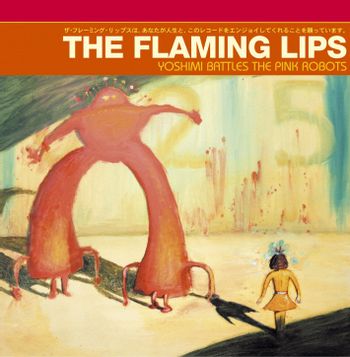 "The test begins...
...NOW!!!!"
Yoshimi Battles the Pink Robots, released in 2002 through Warner (Bros.) Records, is the tenth studio album by The Flaming Lips. It was the follow-up to the widely acclaimed The Soft Bulletin, and went on to have even greater success than its predecessor.
It is often considered as an Concept Album as many of the songs on Yoshimi are united by a core range of subjects, including fighting for the things you believe in (as well as the reluctance to fight), the Power of Love triumphing over evil, and learning to embrace a world where death is inevitable.
The album spawned the hit single "Do You Realize??", which was selected as the Official State Rock Song for Oklahoma - the band's homestate - in 2009, and has become something of a signature anthem for the group. In 2012 the album was adapted into a Broadway musical, co-written by frontman Wayne Coyne and directed by Des Mcanuff, with Kimiko Glenn as the title character.
---
Tracklist
"Fight Test"
"One More Robot/Sympathy 3000-21"
"Yoshimi Battles the Pink Robots Pt. 1"
"Yoshimi Battles the Pink Robots Pt. 2"
"In the Morning of the Magicians"
"Ego Tripping at the Gates of Hell"
"Are You a Hypnotist??"
"It's Summertime (Throbbing Orange Pallbearers)"
"Do You Realize??"
"All We Have Is Now"
"Approaching Pavonis Mons by Balloon (Utopia Planita)"
Ego Troping at the Gates of Hell:
---