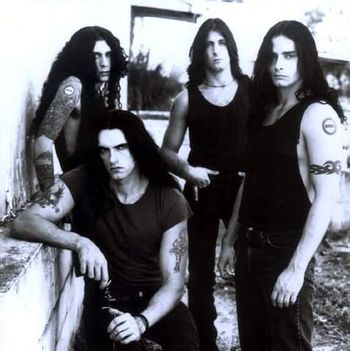 She's in love with herself,
She likes the dark,
On her milk white neck,
The Devil's mark.
"Black No. 1"
Founded in 1989 upon the ashes of Face of the Band (and Bassist) Peter Steele's earlier band Carnivore, Type O Negative's Signature Style was an unlikely mixture of Black Sabbath, Goth Rock, and Punk. They often used a distinct pop / indie sensibility most visible on the October Rust album. Notable for being one of the pioneers of Gothic Metal. They broke up with the passing of Peter Steele in 2010.
---
Discography:
Slow, Deep and Hard (1991)
The Origin of the Feces (1992) note
Bloody Kisses (1993) note
October Rust (1996)note
World Coming Down (1999)
Life is Killing Me (2003)
Dead Again (2007) note
---
They provide examples of:
---