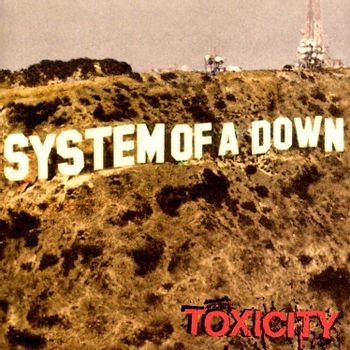 Toxicity is the second studio album by Alternative Metal band System of a Down, released on September 4, 2001. While their previous eponymous album garnered them a substantial following, this record propelled the band into the mainstream due to its impressive Genre Roulette and stunning originality.
Expanding from their usual tirades about government oppression, Toxicity highlighted more specific issues in which the band was interested, such as the decriminalization of drugs, environmentalism, education, religion, war, and fame. One of the more hard-hitting political messages was "Chop Suey!", which was an all-out critique of "self-righteous suicide" (such as jihad) and religious fundamentalism. It became a hugely successful song especially when 9/11 occurred just a week after the album was released.
The band also dabbled with Lighter and Softer melodies while keeping their Hard Rock edge and Serj Tankian's characteristic metal screams, such as on the hit singles "Toxicity" and "Aerials" (which was nominated for a Grammy Award). The album has since sold 12 million copies and remains SOAD's most influential album to date, since it helped to further popularize the progressive metal genre.
Tracklist:
"Prison Song" (3:21)
"Needles" (3:13)
"Deer Dance" (2:55)
"Jet Pilot" (2:06)
"X" (1:58)
"Chop Suey!" (3:30)
"Bounce" (1:54)
"Forest" (4:00)
"ATWA" (2:56)
"Science" (2:43)
"Shimmy" (1:51)
"Toxicity" (3:38)
"Psycho" (3:45)
"Aerials" (6:11)note
---
Principal Members:
Serj Tankian – vocals, keyboards, guitars
Daron Malakian – guitars, vocals
Shavo Odadjian – bass, backing vocals
John Dolmayan – drums
---
Trope Suey!
---