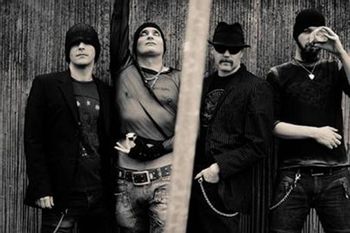 Tiamat is a Swedish metal band, considered one of the pioneers of both Gothic Metal and Progressive Death Metal.
Formed in 1988 as Treblinka, they changed their name to Tiamat in 1989 and released their debut album, Sumerian Cry, in 1990. After the release of this album (which was straight-up Death Metal), frontman Johan Edlund gradually changed the band's style, adding influences from Mercyful Fate, Candlemass, Pink Floyd and King Crimson, eventually culminating in Wildhoney, which was universally acclaimed for its mix of Progressive Rock and extreme metal (signalling the birth of a new subgenre pioneered by bands like Opeth).
After the release of A Deeper Kind of Slumber, Edlund relocated from Sweden to Germany and declared himself the only permanent member of the band; all albums that would follow would cement the band into a more gothic rock sound, quite different from the extreme music they did in the years before, with recent albums showing a The Sisters of Mercy influence.
---
Discography:
Sumerian Cry - 1990
The Astral Sleep - 1991
Clouds - 1992
Wildhoney - 1994
A Deeper Kind of Slumber - 1997
Skeleton Skeletron - 1999
Judas Christ - 2002
Prey - 2003
Amanethes - 2008
The Scarred People - 2012
---
Associated Tropes:
---