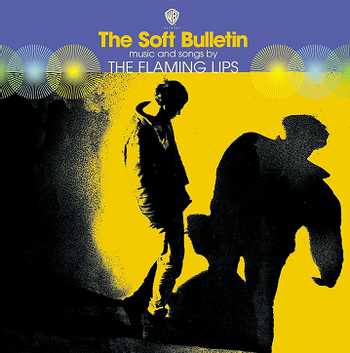 The Soft Bulletin is the ninth studio album by The Flaming Lips. Their commercial and critical breakthrough, it was released in 1999 through Warner (Bros.) Records and is widely considered by many to be a career high in the extensive Lips canon, as well as one of the best albums of the decade— if not all time.
The bulk of The Soft Bulletin was recorded in the same sessions as the band's previous album, the four-disc surround sound experiment Zaireeka. Whilst the two are equally ambitious in scope and form, The Soft Bulletin displays a greater emphasis on songcraft and melody, and is thus the more immediately accessible.
Due to its blend of multi-layered, Wall of Sound-style production and poignant, emotional subject matter, critics often pinpoint The Soft Bulletin to being the Spiritual Successor to The Beach Boys album Pet Sounds. The album also acts as a companion piece to Deserter's Songs by Mercury Rev (which Wayne Coyne has acknowledged as a influence): both records were made in the same period, with the same producer on board (Dave Fridmann), and were massive hits at a time when both groups desperately needed them.
The Soft Bulletin is noted for being one of only 12 albums to receive a rare 10 out of 10 fromPitchfork on its initial release. (the same site note and same reviewer, no less! which gave Zaireeka an even rarer zero); it was also ranked third on their list of the top 100 albums of the decade (behind Loveless and OK Computer).
In 2019, the band released a live version recorded at the Red Rocks Amphitheatre in Colorado; and in 2021 gave it's companion piece, literally called "The Soft Bulletin Companion", a wide release after it was only given to select journalists for the albums original release.
---
Tracklist
NOTE: On its original release, The Soft Bulletin came out with two different versions for Europe and international audiences. One track was dropped from each version ("The Spiderbite Song" on the former, and "Slow Motion" on the latter), and were tagged with radio-friendly remixes of "Race for the Prize", "Buggin'" (which was never released in its original form til the album was remastered in 5.1 Surround Sound in 2006) and "Waitin' for a Superman" by Peter Mokran. This is the non-altered tracklisting originally intended by the band, which can be found on the 5.1 and vinyl reissues; the order here is reflective of the vinyl release.
LP One
Side One
"Race for the Prize (Sacrifice of the New Scientists)" (4:18)
"A Spoonful Weighs a Ton" (3:32)
"The Spark That Bled (The Softest Bullet Ever Shot)" (5:55)
"The Spiderbite Song" (4:02)
Side Two
"Buggin' (The Buzz of Love is Busy Buggin' You)" (3:22)
"What Is the Light? (An Untested Hypothesis Suggesting That the Chemical [In Our Brains] by Which We Are Able to Experience the Sensation of Being in Love Is the Same Chemical That Caused the "Big Bang" That Was the Birth of the Accelerating Universe)" (4:05)
"The Observer" (4:11)
LP Two
Side Three
"Waitin' for a Superman (Is It Gettin' Heavy??)" (4:17)
"Suddenly Everything Has Changed (Death Anxiety Caused by Moments of Boredom)" (3:54)
"The Gash (Battle Hymn for the Wounded Mathematician)" (4:02)
Side Four
"Slow Motion" (3:49)
"Feeling Yourself Disintegrate" (5:23)
"Sleeping on the Roof (Excerpt from "Should We Keep the Severed Head Awake??")" (3:04)
CD and DVD releases are across a single disc
---
They're just humans with tropes and children:
---