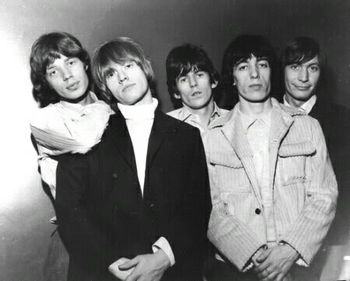 "I've decided to answer a few Frequently Asked Questions... Other than The Rolling Stones, what's my favourite group? Well, I guess I'm a real fan of The Free Credit Report Dot Com Band!"
The Rolling Stones are a British blues-based rock band which has been described (first by stage manager Sam Cutler in 1969) as "The World's Greatest Rock and Roll Band" and has been doing its best to justify the description for more than half a century.
The Stones were formed in London in June of 1962, when guitarist and original leader Brian Jones recruited pianist Ian "Stu" Stewart, soon followed by vocalist Mick Jagger, who brought along guitarist Keith Richards. After a series of fill-ins, bassist Bill Wyman joined in December 1962 and drummer Charlie Watts joined in January 1963, completing the first stable line-up. After the band recruited Andrew Loog Oldham as their manager, Stewart was removed from the official line-up, as Oldham felt that six members were too many, and Stewart was the odd one out image-wise. However, Stu took the demotion admirably well and continued to work with the band as road manager and main pianist and keyboardist until his death in 1985.
The band's early recordings largely consisted of covers of American blues and R&B songs, while their earliest self-penned numbers were credited under the collective pseudonym Nanker/Phlege. After first achieving success in the UK with a cover of Lennon and McCartney's "I Wanna Be Your Man" in late 1963, they crossed the Atlantic as part of the first wave of The British Invasion in 1964. However, their first U.S. tour was famously a disaster, with the Stones having no major hit to tour on, getting mocked by Dean Martin on national TV, and regularly failing to sell tickets well. Their big breakthrough came in 1965, when their singles "The Last Time" and "(I Can't Get No) Satisfaction", as well as their third album Out of Our Heads, shot the Stones into superstardom on both sides of the pond. By this time, Jagger and Richards had taken the leadership role from Jones in the group, largely on the strength of their now-fertile songwriting partnership.
Starting with their 1966's Aftermath (Album), the songs of Jagger and Richards, aided by the instrumental experimentation of Jones, expanded the band's ever-present stylistic flexibility. The experimentation continued through 1967 with the baroque pop album Between the Buttons and climaxed with the polarizing album Their Satanic Majesties Request and single "We Love You". 1967 proved to be an important year for the Stones, who came close to breaking up. Jagger, Jones, and Richards were all hit by drug busts, which would have a devastating impact on Jones in particular. Oldham, who had worked as their manager and producer since 1963, quit around this time, feeling that his partnership with the band had run its course. This led to the Stones self-producing Satanic Majesties.
In 1968, the band recruited Jimmy Miller as record producer and chose to return to a back-to-basics approach to their music after the psychedelic excesses from the previous year. Beggars Banquet proved to be the last hurrah for Brian Jones, who was hit by another drug bust, and stopped making major contributions to the band's music. His health had also been affected by drug use, and as a result of the drug busts, he was unable to gain a visa to tour in America. Jones's final contributions to the band were autoharp on "You Got the Silver" and percussion on "Midnight Rambler" from Let It Bleed. Matters soon came to a head, and Jones was forced to leave the band he had founded and named, replaced by Mick Taylor. Jones sadly drowned in his own swimming pool several weeks after his departure, and just a few days before Taylor had his first gig with the band—at Hyde Park, which was transformed into a tribute concert for Jones. Taylor recorded five studio albums with the Stones (including Sticky Fingers and Exile on Main St., which along with their two predecessors are widely regarded as one of the greatest four-album streaks in rock music history) before quitting in 1974. Former Faces guitarist Ronnie Wood stepped in, became an official member in February 1976, and has been with the band ever since. Wyman quit in 1993; bassist Darryl Jones, who is not an official band member, has worked with the group since then.
Charlie Watts died on August 24, 2021, at the age of 80.
They have released 23 studio albums in the UK (25 in the US), 19 live albums, and numerous compilations; and have sold more than 200 million albums worldwide. Sticky Fingers from 1971 began a string of eight straight studio albums that charted at number one in the United States. In 1989, The Rolling Stones were inducted into the Rock & Roll Hall of Fame. In 2004 and again in 2011, they were ranked number 4 in Rolling Stone magazine's 100 Greatest Artists of All Time. Their image of unkempt and surly youth (originally cultivated in large part to contrast them with The Beatles) is one that many musicians still emulate. The band's attitude and style were major influences on Hard Rock, Heavy Metal, Punk Rock, and Alternative Rock bands that followed them.
For the Heinlein novel, see The Rolling Stones (1952).
---
open/close all folders
Lineup
Principal members (Founding members in bold, current members in italic):
Mick Jagger - lead vocals, harmonica, guitar, percussion, tambourine, piano, keyboards, maracas, castanets, bass (1962–)
Brian Jones - guitar, backing vocals, harmonica, percussion, organ, keyboard, harpsichord, marimba, sitar, dulcimer, koto, vibraphone, recorder, saxophone, oscillator, mellotron, flute, brass, tamboura, trumpet, congas, autoharp, banjo, mandolin, bass, clarinet, xylophone, glockenspiel, harp, tabla (1962–69; died 1969)
William Perks (Bill Wyman) - bass, backing and lead vocals, guitar, organ pedals, double bass, piano, percussion, maracas, autoharp, vibes, synthesizer, marimba (1962–93) note
Keith Richards - guitar, backing and lead vocals, piano, organ, bass, double bass, bicycle spokes, tambourine (1962–)
Ian "Stu" Stewart - piano, keyboard, organ, percussion (1962–63; died 1985) note
Mick Taylor - guitar, backing vocals, bass, synthesizer, congas (1969–74) note
Charlie Watts - drums, percussion, tabla, cowbell, clave, tambourine (1963–2021; died 2021)
Ronnie Wood - guitar, backing vocals, bass, bass drum, drums, saxophone, dobro (1976–)
Early Members/Fill-Ins:
Mick Avory - drums (1962)
Tony Chapman - drums (1962–63)
Ricky Fenson - bass (1962–63)
Colin Golding - bass (1962–63)
Carlo Little - drums (1962–63; died 2005)
Dick Taylor - bass (1962)
Discography
Studio Discography:
<!—index—>
<!—/index—>
Live Discography:
1965 - Got Live If You Want It! (EP) note
1966 - Got Live If You Want It! note
1970 - Get Yer Ya-Ya's Out! The Rolling Stones in Concert
1977 - Love You Live
1982 - "Still Life" (American Concert 1981)
1991 - Flashpoint note
1995 - Stripped
1996 - The Rolling Stones Rock And Roll Circus note
1998 - No Security
2004 - Live Licks
2008 - Shine a Light
2011 - Brussels Affair (Live 1973)
2011 - Some Girls: Live in Texas '78
2012 - Hampton Coliseum (Live 1981)
2012 - L.A. Friday (Live 1975)
2012 - Live at the Checkerboard Lounge, Chicago 1981 note
2012 - Live at the Tokyo Dome note
2012 - Light the Fuse note
2012 - Live at Leeds note
2013 - Hyde Park Live
Non-album singles:
1963 - Come On

I Want to Be Loved as the B-side

1963 - I Wanna Be Your Man
1964 - Not Fade Away note

Little by Little as the UK B-side note

I Wanna Be Your Man as the US B-side note

1964 - It's All Over Now note

Good Times, Bad Times as the B-side note

1964 - Time Is on My Side note

Congratulations as the B-side note

1964 - Little Red Rooster note

Off the Hook as the B-side note

1965 - The Last Time note

Play with Fire as the B-Side note

1965 - (I Can't Get No) Satisfaction note

The Spider and the Fly as the UK B-side note

The Under Assistant West Coast Promotion Man as the US B-side note

1965 - Get Off of My Cloud note

The Singer Not the Song as the UK B-side note

I'm Free as the US B-side note

1965 - As Tears Go By note

Gotta Get Away as the B-side note

1966 - 19th Nervous Breakdown

As Tears Go By as the UK B-side note

1966 - Paint It Black note

Long Long While as the UK B-side

Stupid Girl as the US B-side note

1966 - Have You Seen Your Mother, Baby, Standing in the Shadow?

Who's Driving Your Plane as the B-side

1967 - Let's Spend the Night Together note

Ruby Tuesday as a double A-side note

1967 - We Love You
1968 - Jumpin' Jack Flash

Child Of The Moon as the B-side

1969 - Honky Tonk Women

You Can't Always Get What You Want as the B-side note

1974 - It's Only Rock 'n Roll note

Through the Lonely Nights as the B-side

1975 - I Don't Know Why

Try a Little Harder as the B-side

1975 - Out of Time note

Jiving Sister Fanny as the B-side

1978 - Shattered note

Everything Is Turning to Gold as the B-side

1981 - If I Was A Dancer (Dance Pt.2)

Dance (Instrumental) as the B-side

1984 - She Was Hot note

I Think I'm Going Mad as the B-side

1989 - Mixed Emotions note

Fancy Man Blues as the B-side

1989 - Rock and a Hard Place note

Cook Cook Blues as the B-side

1989 - Terrifying note

Wish I'd Never Met You as the B-side

1994 - Love Is Strong note

The Storm as the first B-side

So Young as the second B-side note

1994 - You Got Me Rocking note

Jump on Top of Me as the B-side

1994 - Out of Tears note

I'm Gonna Drive as the first B-side

Sparks Will Fly and So Young as the second and third B-side note

1998 - Saint Of Me note

Anyway You Look At It as the first B-side

Gimme Shelter and Anybody Seen My Baby as the second and third B-side note

2002 - Don't Stop

Miss You as the B-side note

2012 - Doom and Gloom

Doom and Gloom as the B-side note

2013 - One More Shot

One More Shot as the B-side note
---
The Rolling Stones are the Trope Namers for:
---
"You can't always trope what you want...":
A-L
M-Z
---