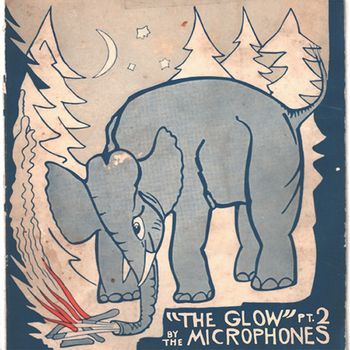 Sweep me off my feet
Take me up and bring me back.
Oh, where I can see
Days pass by me

I have no head to hold in grief.

—"I Want Wind to Blow"
The Glow Pt. 2 is the fifth studio album by the Microphones, the now-defunct project of Washington singer-songwriter Phil Elverum, released September 25, 2001. The album's name and titular track is a reference to the fourth track on previous album It Was Hot, We Stayed in the Water, and was made during a time of hardship for Elverum - his old band had split, and Phil himself had split with his girlfriend. As such, the lyrics on this album deal with the aftermath of these events and serve as an introspective of Elverum himself. What makes The Glow Pt. 2 so distinct from many other folk records is Phil's adoption of lo-fi; songs can go from quiet to very loud in a near instant.
The album cover is based off of an antique Dutch cookbook: Calvé-Delft's Winterboekje, published all the way back roughly 1940. The album itself is long, around 70 minutes with 20 tracks, spanning a diverse array of sound.
With cutting and emotional lyricism and innovative songwriting, The Glow Pt. 2 was acclaimed upon release and is still raved over to this day, while also proving to be hugely influential since. Many have noted that The Glow Pt. 2's impact has had a similar effect to The Velvet Underground & Nico's impact; much like how the latter had lead many to believe that even the most basic of songwriting can bring critical favour, the former has since seen many budding musicians recording acoustic songs with low-end equipment in similar hopes. The Microphones would have one last release, Mount Eerie in 2003, before Phil began the new project of... Mount Eerie. However, it wasn't until 2020 that the Microphones name was revived.
---
Tracklist:
"I Want Wind to Blow" (5:32)
"The Glow Pt. 2" (4:58)
"The Moon" (5:16)
"Headless Horseman" (3:08)
"My Roots Are Strong and Deep" (1:53)
"Instrumental" (1:38)
"The Mansion" (3:52)
"(Something)" (1:38)
"(Something)" (2:42)
"I'll Not Contain You" (2:50)
"The Gleam Pt. 2" (1:57)
"Map" (5:00)
"You'll Be in the Air" (2:41)
"I Want to Be Cold" (1:41)
"I Am Bored" (1:36)
"I Felt My Size" (2:24)
"Instrumental" (1:52)
"I Felt Your Shape" (1:54)
"Samurai Sword" (4:07)
"My Warm Blood" (9:28)
---
My tropes are strong and deep:
---