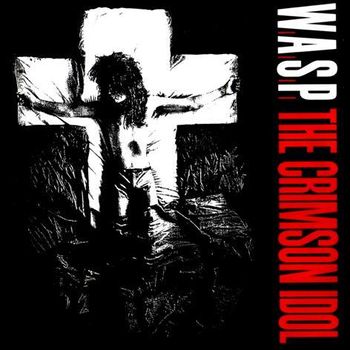 "I just wanna be...I just wanna be...I just wanna be the Crimson Idol of a million eyes..."
The Crimson Idol is the fifth studio album by American heavy metal band WASP. Originally intended to be a solo record by frontman Blackie Lawless, but fans basically begged him to release it under the band's name (reforming it in the process.) It is a concept album and tells the story of a fictional rock star named Jonathan Aaron Steel.
A far cry from the band's first three albums, The Crimson Idol continues with the serious and heavier tone set by the previous album The Headless Children. It has received almost unanimous acclaim from the fans, and is considered to be Blackie's magnum opus.
A remastered edition of the album was released in 1998 and a bonus disc that included two more music tracks that were originally B-Sides to singles from the album, "Phantoms in the Mirror" and "The Eulogy" as well as a seventeen minute spoken word piece with minimal musical backing "The Story of Jonathan (Prologue to the Crimson Idol)" that had originally been released as a single as a coda to the album itself.
In 2017 a rerecorded version of the album was released, ReIdolized (The Soundtrack to The Crimson Idol) alongside an hour long film of the album's story that had been originally intended for the initial release. This version added six extra songs, extended others and made the album a double CD.
Tracklist (Original version)
"The Titanic Overture" (3:31)
"The Invisible Boy" (5:12)
"Arena Of Pleasure" (4:59)
"Chainsaw Charlie (Murders In The New Morgue)(7:42)
"The Gypsy Meets The Boy" (4:15)
"Doctor Rockter" (3:51)
"I Am One" (5:25)
"The Idol" (8:40)
"Hold On To My Heart" (4:22)
"The Great Misconceptions Of Me" (9:44)
"The Story of Jonathan (Prologue to the Crimson Idol)" (16:35) (1998 Remaster only)
Tracklist (2017 ReIdolized (The Soundtrack to The Crimson Idol) version)
"The Titanic Overture" (3:31)
"The Invisible Boy" (4:18)
"Arena of Pleasure" (6:05)
"Chainsaw Charlie (Murders in the New Morgue)" (7:44)
"The Gypsy Meets the Boy" (4:14)
"Michael's Song" (1:52)
"Miss You" (8:07)
"Doctor Rockter" (4:02)
"I Am One" (6:28)
"The Idol" (6:44)
"Hold On to My Heart" (4:14)
"Hey Mama" (1:41)
"The Lost Boy" (4:37)
"The Peace" (5:59)
"Show Time" (1:11)
"The Great Misconceptions of Me" (9:59)
Personnel (Original version)
Blackie Lawless: vocals, guitar, keyboard, bass, arrangement, production.
Bob Kulick: guitar
Frank Banali: drums
Stet Howland: drums
Personnel (2017 ReIdolized (The Soundtrack to The Crimson Idol) version)
Blackie Lawless: vocals, guitar, keyboard, bass, arrangement, executive production.
Doug Blair: lead guitar, background vocals
Mike Duda: bass guitar
Mike Dupke: drums
Frankie Banali: drums (on "The Peace")
---
Tropes in the new morgue