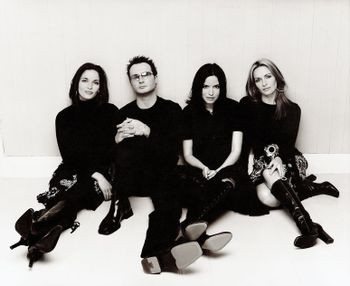 She's never gonna be like the one before,
She read it in her stars that there's something more,
No matter what it takes, no matter how she breaks,
She'll be the Queen of Hollywood..
"Queen of Hollywood"
The Corrs are an Irish folk/pop/soft rock band, consisting of four siblings (in age order: Jim, Sharon, Caroline and Andrea) from Dundalk. Formed in 1990, they acheived major commercial success in 1995 and continued touring, recording and releasing popular albums for ten years before going on hiatus in 2005 to allow all four members time out to get married, have children, raise families and work on solo projects. After some doubt as to whether they'd ever reunite, the band announced they were working on a new album, which was released in late 2015.
Members:
Andrea (lead vocals, tin whistle)
Sharon (violin, vocals)
Caroline (drums, piano, bodhrán, vocals)
Jim (guitar, piano, vocals).
Discography:
Tropes used by the band include:
---