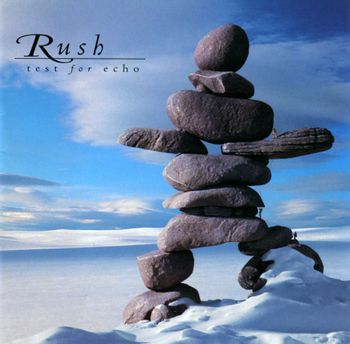 Test for Echo is the sixteenth studio album by Rush, released in 1996. The last album produced by Peter Collins, it marked the return of a more complex and progressive sound. It was also the last album that would be released by the band for 6 years, due to the personal tragedies in Neil Peart's life.
Fan and critic reception was mixed to negative, with the consensus being that while there were a few good songs, the album for the most part sounded very uninspired and that Rush was "on autopilot" for this album. Along with Caress of Steel, it is regarded to be the weakest installment in Rush's discography.
---
Tracklist:
"Test for Echo"
"Driven"
"Half the World"
"The Color of Right"
"Time and Motion"
"Totem"
"Dog Years"
"Virtuality"
"Resist"
"Limbo"
"Carve Away the Stone"
---
Principal Members:
Geddy Lee - lead vocals, bass, synthesizer, sequencer
Alex Lifeson - guitar, keyboard, mandola
Neil Peart - drums, percussion, hammered dulcimer
---
Carve Away the Tropes:
---