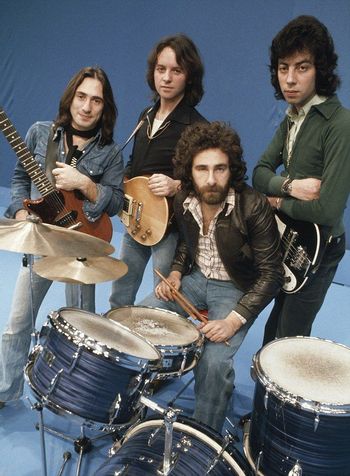 "It's one thing to know it, but another to admit; we're the worst band in the world, but we don't give a..."
10cc are a British art rock/pop rock band from the Manchester area. The original lineup consisted of former Mindbender Eric Stewart, successful songwriter for hire Graham Gouldman, and session musicians Kevin Godley and Lol Creme. While all were multi-instrumentalists, the standard arrangement was Stewart and Creme on a guitar/keyboard match, Gouldman on bass, and Godley on drums.
The band members had worked together frequently starting in the late 1960s, often participating in recording sessions at Strawberry Studios, a recording complex co-owned by Stewart and Gouldman. Creme, Godley and Stewart scored a worldwide hit with "Neanderthal Man", credited to Hotlegs, in 1970. In 1972, they decided to formally band together as a quartet.
This lineup recorded four albums in the early to middle seventies, gaining in popularity and enjoying a hit single in "I'm Not in Love". Afterward Godley and Creme split to make more experimental records before becoming a busy music video directing team. Stewart and Gouldman continued on in a pop rock vein, having two more hit albums before things quieted down. The original lineup reunited in the early nineties before breaking up again in 1995. Graham Gouldman formed a new lineup in 1999 and they've continued to tour since then.
Fun fact: The band name was suggested by their first manager, Jonathan King, who dreamt about an act with that name on stage making it big. Urban Legend says he thought it to be the average measure of a man's ejaculate. The real volume is about a quarter of that.
Studio discography:
1973 - 10cc
1974 - Sheet Music
1975 - The Original Soundtrack
1976 - How Dare You!
1977 - Deceptive Bends
1978 - Bloody Tourists
1980 - Look Hear?
1981 - Ten out of 10
1983 - Windows in the Jungle
1992 - ...Meanwhile
1995 - Mirror Mirror
Tropes associated with 10cc:
---