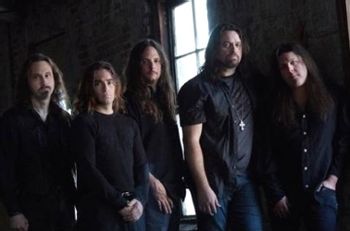 Influenced by:
Symphony X is an American Progressive Metal band that was formed in New Jersey in 1994. They also incorporate several elements of Power Metal, Neo-Classical Metal, Speed Metal, and traditional Heavy Metal in their music. Alongside Dream Theater, they are considered to be one of the most important bands in Progressive Power Metal.
Their music is often very fast and technical, often using unusual rhythms and meters, synth and guitar solo trade-offs, sweeping keyboard orchestrations, and long instrumental interludes. Lyrically, a lot of their songs and albums often reference or are based on classic literature, and the band has recently trended to having their albums be based on some unifying theme.
From The Odyssey onward, all of their albums have been recorded and produced at guitarist and composer Michael Romeo's personal studio, The Dungeon.
Frontman Russell Allen has also been a member of two supergroups: Allen Lande with Jørn Lande, and Allen Olzon with Anette Olzon.
---
Discography:
Symphony X (1994)
The Damnation Game (1995)
The Divine Wings of Tragedy (1997)
Twilight in Olympus (1998)
Prelude to the Millennium (compilation, 1999)
V: The New Mythology Suite (2000)
Live on the Edge of Forever (live album, 2001)
The Odyssey (2002)
Paradise Lost (2007)
Iconoclast (2011)
Underworld (2015)
---
Current Members:
"Sir" Russell Allen - vocals (1995-)
Michael Romeo - guitar (1994-)
Michael Lepond - bass (2000-)
Michael Pinnella - keyboards (1994-)
Jason Rullo - drums (1994-1998, 2000-)
Former Members:
Rod Tyler - vocals (1994)
Thomas Miller - bass (1994-2000)
Thomas Walling - drums (1998-2000)
---
Symphony X provides examples of the following tropes:
---