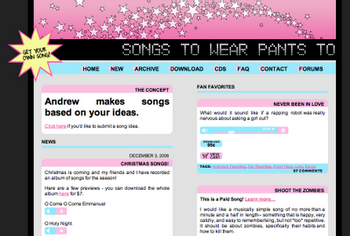 Songs To Wear Pants To
is a website. It has some songs, and you can listen to them in your computer. All you have to do is right-click and 'save as', or so its two Theme
songs
say.
Basically, on April 9th, 2004, a guy named Andrew Huang living in Toronto created a website where people could request songs about any subject. Initially, the rule was that all songs would be under 1 minute and 11 seconds, but that rule has since been done away with.
Since STWPT's opening, hundreds of songs have been requested about pretty much any subject, from Sea Anemones
and instructions on how to put on pants
to evil pickles killing everybody
and robot pirates
.
These Songs To Wear Pants To songs are just about any genre you can think of, from hard rock, to techno, to a game soundtrack/children's music/psychedelic rock mixture.There have been six CD's released from the songs created throughout the years, titled (in chronological order) Green Pants, Blue Pants, Pink Pants, Sweat Pants, Skinny Jeans, and the final release, Corduroys, With the Tassels. Each CD cost $10.
Roughly a little less than half of the songs on Songs To Wear Pants To were free to download, with just right clicking and saving as (as the first sentence states). Other songs were 99 cents to download.
Song requests were done by email; free requests were usually done only if Andrew sufficiently liked the concept and if he had free time, while paid requests (costing anywhere from $50-$200 a minute) would always be done on time for obvious reasons. Many paid requests were not posted on the website, being that a lot of them are personal and all, but a fair few were, and some even made it onto the albums.
Unfortunately, Time Marches On and the website is now defunct. The old website layout can be viewed through the Internet Archive's WaybackMachine
. However, as Adobe Flash is no longer supported, none of the music can be accessed via the archived website.
All is not lost, however— The music lives on through Bandcamp
, Spotify
, as well as Andrew Huang's
other projects. Some songs are available through YouTube via dedicated fans.
---
This website provides examples of:
---