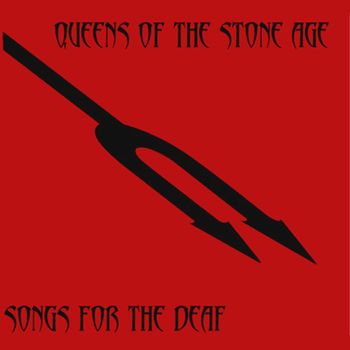 "Hey, alright, it's Kip Kasper. KLON Radio, LA's infinite repeat. How we feelin' out there? How's your drive time commute? I need a saga. What's the saga? It's
Songs for the Deaf
. You can't even hear it!"
—Blag Dahlia as fictional DJ Kip Kasper in the opening moments of the album
Songs for the Deaf is the third studio album by Queens of the Stone Age. Released in 2002, it exhibits an impressive Genre Roulette, since the band successfully straddled their original stoner rock sound with more aggressive Hard Rock influences.
This is largely thanks to the fact that Dave Grohl contributed the drum work and even toured with the band, inspiring frontman Josh Homme to use a heavier sound during the production process. The result is a weird mix of psychedelic, garage, and doom rock, which garnered widespread positive reviews.
The album is also noted for its fake radio show excerpts between songs, which makes fun of pretentious radio station hosts and the shallowness of mainstream music. The record itself is a loose Concept Album, since the excerpts collectively take the listener on a drive from Los Angeles to the desert (specifically Joshua Tree).
Josh Homme claims that this was added to keep fluidity between the tracks, but his inclusion of stupid radio deejays throughout the album seems to speak to his disdain toward going mainstream and selling out early in his career. In any case, this has become Hilarious in Hindsight since the singles "No One Knows", "Go with the Flow", and "First It Giveth" did become hits.
The record has gone platinum and helped the Queens gain mainstream recognition.
---
Tracklist:
"The Real Song for the Deaf"note (1:33)
"You Think I Ain't Worth a Dollar, But I Feel Like a Millionaire" (3:12)
"No One Knows" (4:38)
"First It Giveth" (3:18)
"A Song for the Dead" (5:52)
"The Sky Is Fallin'" (6:15)
"Six Shooter" (1:19)
"Hangin' Tree" (3:06)
"Go with the Flow" (3:09)
"Gonna Leave You" (2:50)
"Do It Again" (4:04)
"God Is in the Radio" (6:04)
"Another Love Song" (3:16)
"A Song for the Deaf" note (6:42)
"Mosquito Song"note (5:37)
---
Principal Members:
Josh Homme – vocals, guitar
Nick Oliveri – bass, vocals
Mark Lanegan – vocals
Dave Grohl – drums, percussion, backing vocals
---
Tropes for the Deaf:
---