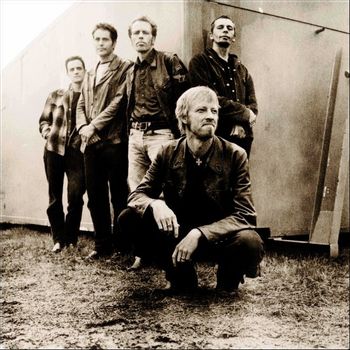 Come and sing us down,
give our conscience a poundin'.
Come an' shake our ground, Lord,
with the sound of Heaven's houndin'.
—"Clogger"
Picture in your mind: In some forsaken corner of the American West, under a sky black with storm clouds, a man rides across the foothills of the Rocky Mountains. He has a gun on his hip and a Bible in his saddlebag. He's pushing his horse to its absolute limit, but it's not clear why he's in such a hurry — whether he's the pursuer or the pursued, fleeing the law or God himself.
That, in a nutshell, is what 16 Horsepower sounds like: Gothic Country Music, with influences from bluegrass, European folk, and alternative country. The band played once in 1992 in Los Angeles, then reformed in Denver, Colorado. Throughout the '90s, they made a name for themselves in the Denver music scene and in Europe, with music ranging from haunting to apocalyptic, and lyrics focusing on the fear of God, wrongdoing, and redemption. In the '00s, they began drifting apart and focusing on side projects; in 2005, they officially disbanded.
Post break-up, David Eugene Edwards focused on his musical project Woven Hand (which has become a Spiritual Successor to 16HP). Pascal Humbert started the band Lilium with help from Jean-Yves Tola, then Pascal joined Woven Hand in 2007.
The roster was somewhat fluid, but the core members were:
<!—index—>
David Eugene Edwards: Lead vocals, guitar, banjo, Chemnitzer concertina and / or bandoneon, hurdy-gurdy, lap steel guitar
Jean-Yves Tola: Drums, vocals
Pascal Humbert: Bass, guitar, vocals
<!—/index—>
---
Albums:
16 Horsepower EP (1995)
Sackcloth 'n' Ashes (1996)
Low Estate (1997)
Secret South (2000)
Hoarse (2000): A live album.
Folklore (2002)
Olden (2003): A compilation of the band's early demos.
Live March 2001 (2008): Another live album.
---
Provides examples of:
---