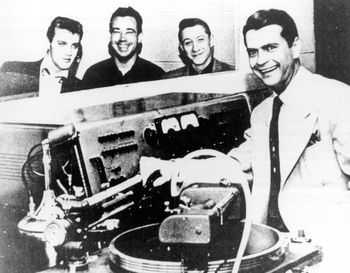 ---
Samuel Cornelius Phillips (January 5, 1923 – July 30, 2003) was an American musician, businessman, record executive, music producer, and disc jockey who is arguably one of the most important record producers,
period
. From his modest Memphis recording studio, The Memphis Recording Service (also the site of his own record label, Sun Records), he started the careers of many of the artists that would change the musical landscape, starting in the mid-fifties:
...And a shit-ton of others. His was the studio that recorded "Rocket 88," often considered the first Rock and Roll song ever, by a band led by Ike Turner, a man now best known for being the husband of Tina Turner (and for beating her).
Phillips has been portrayed often in media, particularly in Biopics such as Walk the Line.
Albums produced by him: