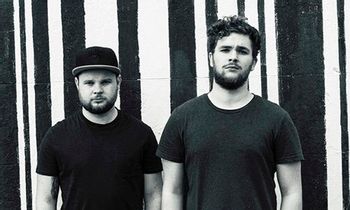 Royal Blood are a British Hard Rock duo from Brighton. The band consists of Mike Kerr (vocals, bass) and Ben Thatcher (drums). You may notice that neither of them play guitar, that's because it's all done on a bass. They also don't use any session or touring musicians, so what you see is what you get. Formed in 2013, they got off to a quick start releasing their debut single "Out of the Black" in November. Later, they relased first EP Out of the Black in March 2014 to positive reviews, containing the Title Track and three other songs.
In August 2014, they released their debut album Royal Blood, which topped the UK albums charts. Their singles "Out of the Black", "Little Monster", and "Figure It Out" also crossed The Pond, placing high on the U.S. rock charts.
Discography
Out of the Black (EP) (2014)
Royal Blood (2014)
How Did We Get So Dark? (2017)
Typhoons (2021)
In media, "Out of the Black" was featured in the soundtracks of video games EA Sports UFC and Forza Horizon 2 , and a trailer for Elite Dangerous. "Blood Hands", an album-exclusive, was featured on the soundtrack album of The Divergent Series: Insurgent.
This band provides examples of
---