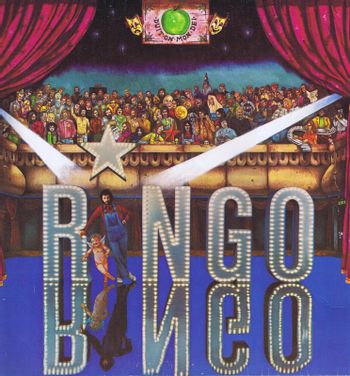 Ringo is the third studio album by Ringo Starr, released in 1973. Previously, in 1970 Starr had released two cover albums, Sentimental Journey and Beaucoup Of Blues. He had then put music on the back burner as he pursued an acting career. During this hiatus, however, he released two successful singles, "It Don't Come Easy" and "Back Off Boogaloo". These laid the groundwork for a full scale relaunch of Starr's music career.
Ringo is notable for its loose, party-like atmosphere and for Starr's strong vocals, a surprise to some who'd considered Starr's contributions Album Filler while he was with The Beatles.
Ah yes, The Beatles, the elephant in the room. This is remembered as one of only two projects between their breakup in 1970 and John Lennon's murder in 1980 on which all four members appear— albeit not all on the same track; the other project was Ringo's Rotogravure in 1976. A little help from your friends certainly doesn't hurt.
---
Tracklist:
Side One
"I'm The Greatest" (3:21)
"Have You Seen My Baby" (3:44)
"Photograph" (3:56)
"Sunshine Life For Me (Sail Away Raymond)" (2:45)
"You're Sixteen" (2:48)
Side Two
"Oh My My" (4:16)
"Step Lightly" (3:15)
"Six O'Clock" (4:06)
"Devil Woman" (3:50)
"You And Me (Babe)" (4:59)
---
Bonus Tracks (1991 Reissue):
"It Don't Come Easy" (3:02)
"Early 1970" (2:20)
"Down And Out" (3:04)
---
Trope Lightly:
---