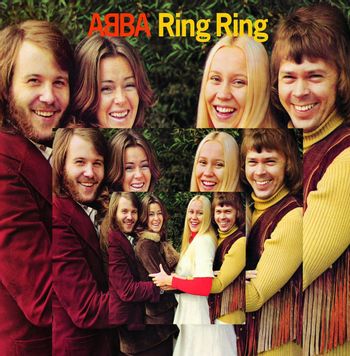 Ring Ring is ABBA's debut album and was released in 1973. It was recorded and developed at the time when the band were officially coming together: the creator couples were hooking up (one of them already married with a child), the members had other commitments with solo projects and the music groups in Sweden that they already had, and they were throwing ideas over what songs to pick.
When the album was first released, the artist was credited as their original band name, "Björn, Benny & Agnetha, Frida". The name of the group hadn't been officially chosen at the point, but was fixed after they became worldwide success. On top of this, the album was released only in certain countries.
The places where ABBA had been successful the most in their career (the UK, the USA and Australia) didn't get an official release until years after the band dissolved. One could argue that it was probably due to the Old Shame factor because Björn and Benny have expressed embarrassment in the later years over many songs included on this album. Nevertheless, it spawned several hit singles, most notably the Title Track, which hit the top ten in five countries, topping the charts in their native Sweden.
Tracklist
Side One
"Ring, Ring" (3:04)
"Another Town, Another Train" (3:12)
"Disillusion" (3:04)
"People Need Love" (2:46)
"I Saw It In The Mirror" (2:34)
"Nina, Pretty Ballerina" (2:51)
Side Two
"Love Isn't Easy (But It Sure Is Hard Enough)" (2:53)
"Me And Bobby And Bobby's Brother" (2:50)
"He Is Your Brother" (3:18)
"She's My Kind Of Girl" (2:44)
"I Am Just A Girl" (3:01)
"Rock 'N' Roll Band" (3:09)
2001 CD re-release bonus tracks
"Merry Go Round" (3:24)
"Santa Rosa" (2:59)
"Ring Ring (Bara du slog en signal)" (3:08)
Personnel
Benny Andersson – piano, keyboards, vocals, mellotron, songwriter, producer and composer
Agnetha Fältskog – vocals, songwriter for "Disillusion".
Anni-Frid Lyngstad – vocals
Björn Ulvaeus – acoustic guitar, guitar, vocals, songwriter, producer and composer
Ola Brunkert – drums
Rutger Gunnarsson – electric bass
Roger Palm – drums
Janne Schaffer – acoustic guitar, electric guitar
Mike Watson – electric bass
Michael B. Tretow - engineer
Björn Almstedt; Lennart Karlsmyr; Rune Persson - assistant engineers
Sven-Olof Walldoff - string arrangements on "I Am Just a Girl"
Lars Falck and Bengt H. Malmqvist - photography
Peter Wiking - original album design
---
Tropes, why don't you give me a call?
---
And I sit all alone impatiently
Won't you please understand the need in me?
---